F82 BMW M4 Receives Akrapovic Evolution Line Exhaust System Installs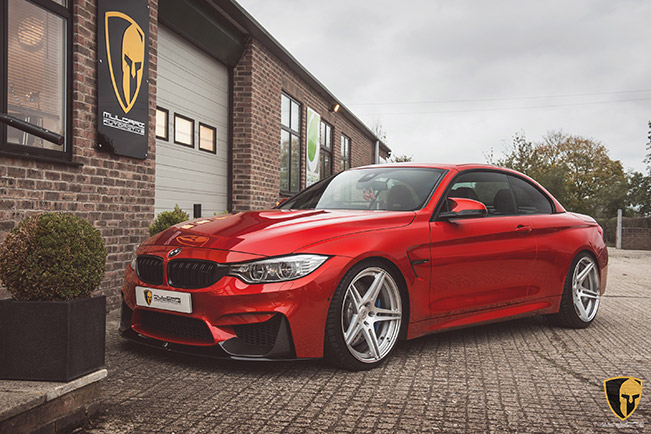 F80 BMW M4 and F82 BMW M3 'conquered' the automotive and tuning world since their first appearance in the market. Now F82 BMW M4 receives Akrapovic Evolution Line Exhaust System Installs which improve the vehicle in terms of power and performance.
The arriving of the first M4 at the Mulgari's shop to receive the premium exhaust system, turned into a memorable and quite exciting moment for this car modifier. The new titanium kit significantly changes the technical data of the F80 BMW M4. The upgraded car receives an important power and torque increase. Precisely, thanks to the Akrapovic Evolution Line system, the BMW jumps from 445 HP (327 kW) at 6250 rpm to 452 HP (333 kW) at 6600 rpm with an improved peak torque of 589 Nm (434 lb-ft.) at 3900 rpm.
What does the Akrapovic kit include though? It features a secondary cat delete, which is designed to increase the gas flow in order to distribute the increase in power and torque rates. What is more, the system also uses valve technology which enables the driver to change the tone of the exhaust as required. This of course, allows a certain customization of the vehicle's sound.
Still, the quality of the Akrapovic is pretty obvious from the pictures. Its carbon fiber muffler tips peek out from beneath the carbon rear diffuser so they just cannot be left unnoticed. The M4 turns into a car with excellent sounding and enhanced power.
In order to make even more customers happy, the team of professionals at Mulgari is taking new pre-orders for delivery in January!
Source: Mulgari