First Glimpse Of 2014 Honda Civic Tourer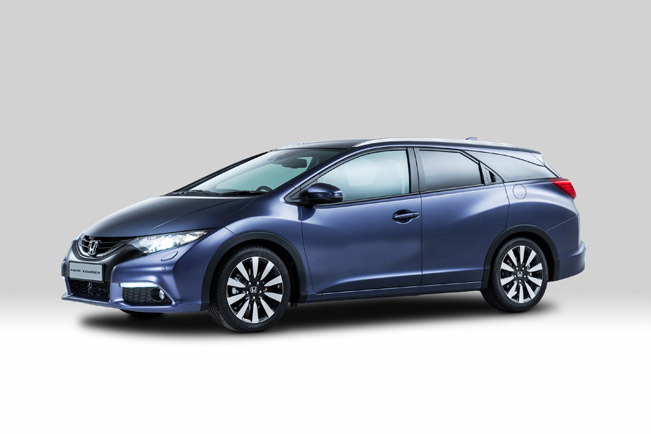 Last week, Honda announced that it is going to display the new Civic Tourer in September at Frankfurt Motor Show. The car was developed and designed in Europe and now the brand is officially revealing the pictures of the car as well as more information about it.
It has a sleek and sophisticated profile, and delivers great practicality through its versatility and functionality with class leading interior space of 624 liters. Honda Civic Tourer will be equipped with either the 1.6 i-DTEC engine from the Earth Dreams Technology series or the 1.8 i-VTEC engine. Both can be matched with manual or automatic transmission.
To go further into details, the exterior design of the Civic Tourer is sophisticated and sporty. It has a unique style which is achieved through the bold line that runs from the front A-pillar to the D-pillar. This creates the impression of a floating roof line.
What is so enchanting about the new Civic Tourer is the new class leading interior space that it offers. When the rear seats are up, the volume is estimated at 624 liters, while when the rear seats are down, the trunk volume grows to 1668 liters.
Furthermore, the designers of the vehicle have created an additional under floor storage in the boot which makes carrying tall objects in the boot easy. In addition, the height of the loading lip has been reduced by 137 mm in order to make easier the loading process.
As mentioned, the Civic Tourer will feature either the1.6 i-DTEC engine from the Earth Dreams Technology series or the 1.8 i-VTEC engine coupled with manual or automatic transmission. First, the 1.6 i-DTEC diesel engine delivers great balance between fuel economy and driving performance.
The unit comprises of an aluminium cylinder head joined to an open deck aluminium block and is the lightest diesel engine in its class. Additionally, every rotating part has been carefully maximized to reduce their friction. This in turn provides better fuel efficiency.
Moreover, a new Adaptive Damper System (ADS) will help to enhance stability and comfort. The system features three settings - comfort, normal and dynamic. In the car are also featured advanced active safety systems, which will deliver a high standard of safety for the driver, passengers and pedestrians.
2014 Honda Civic Tourer will be launched in Europe from early 2014.
Source: Honda