2012 Ford B-MAX's Easy Access Door System
2012 Ford B-MAX features unique Easy Access Door System which will bring to its customers unrivalled ease of access. In particular it integrates the central body pillars into the doors of its multi-activity vehicle and thus creating 1.5-metre wide unobstructed openings on either side of the car. The development of the concept, the designers spent several days observing drivers in their daily routine. Hence, they got the understanding, what exactly will customers really want from a compact car. Engineers then start producing a safe and practical vehicle which is in alliance with those needs. What they did is that they moved the high-strength body-structure from the central body pillars and integrated it directly into the doors. This ensures high level of crash protection in the event of a side impact. Up to five times the strength of conventional mild steel is delivered through special ultra-high-strength steel. This is used in key parts of the body and doors, thus creating an extremely strong and stiff structure without adding extra weight.
In addition the process involved intense testing and analysis at every stage. More than 1,000 detailed computer simulations were conducted over three years to optimize side impact crash performance. In addition, the B-MAX interior is packed with features which take optimal advantage of the new Easy Access Door System. The rear seats and the front passenger seat, for instance, can be folded flat. In this way it creates a large, convenient load platform, which can accommodate everything from bicycles to flat-pack furniture.
The All-New Ford B-MAX will make its first appearance in Geneva next month. Eventually, it will go for sale later this year.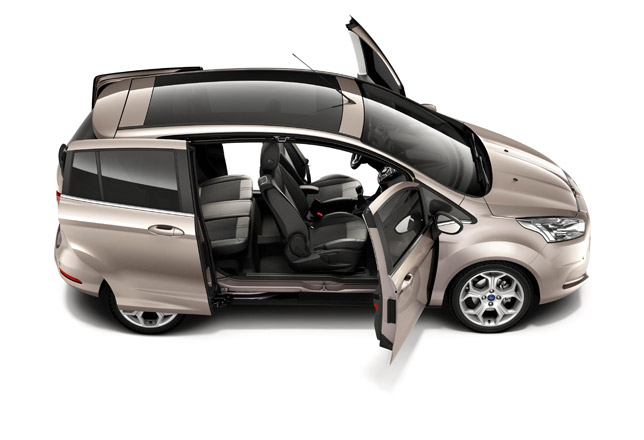 Source: Ford