Ford B-MAX delivers Best-In-Class Fuel Economy and CO2 emission
The new Ford B-MAX compact multi-activity vehicle achieves best-in-class fuel economy and CO2 emissions for both the diesel and petrol versions. The new 1.0-liter EcoBoost 120PS (88 kW) petrol engine and the 1.6-liter TDCi 95PS (70 kW) diesel engine both beat the rivals on fuel economy and on CO2 emissions.
Obviously, the all-new Ford B-MAX which is going to make its debut this year is setting a new standard in its class. To be more precise, the new B-MAX, powered by 1.6-liter TDCi delivers 104 g/km CO2 emissions and 4.0 l/100km (70.6mpg). The B-MAX with a 1.0-liter EcoBoost petrol engine (120PS/88 kW) will offer 114g/km CO2 emissions and fuel economy of 4.9 l/100km (57.6mpg). All B-MAX's petrol rivals trail behind with 134-149g/km CO2 emissions and 5.7 l-6.4 l/100km fuel consumption. The goal of Ford here was to redefine the segment through technology and ingenuity, which includes delivering the very best fuel economy.
Furthermore B-MAX features also a range of technologies which help reducing the fuel consumption and the CO2 emissions. They include: Auto-Start-Stop, which automatically shuts down the engine when the vehicle is at idle; the Ford Eco Mode driver information system, which helps drivers adopt a more economical driving style; Gear Shift Indicator, to highlight the most efficient gear changing points; and Smart Regenerative Charging, which charges the battery at the most economical points in a journey.
In the production of the all-new B-MAX was featured a brand innovative approach to door construction, which resulted in wide-open access for drivers, passengers and luggage. It includes the center pillars integrated into the doors themselves. The B-MAX was also designed with high quality materials, which are rarely to be found on an affordable compact car, together with flexible-seating and class-leading load-space.
The all-new B-MAX will debut at the Geneva Motor Show in March and go on sale across Europe later this year.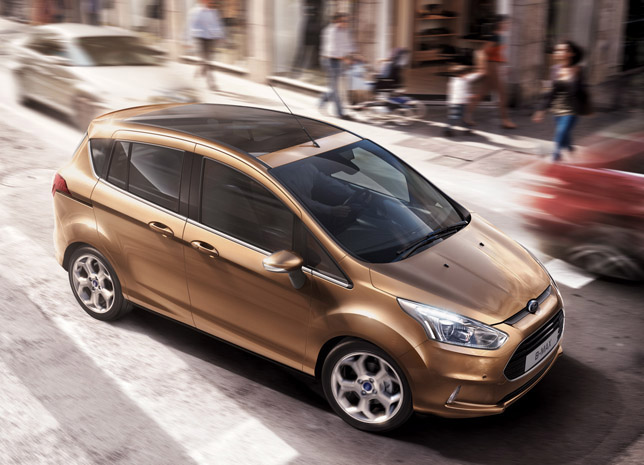 Source: Ford