Ford Brings Under The Hammer 2015 Mustang F-35 Lightning II Edition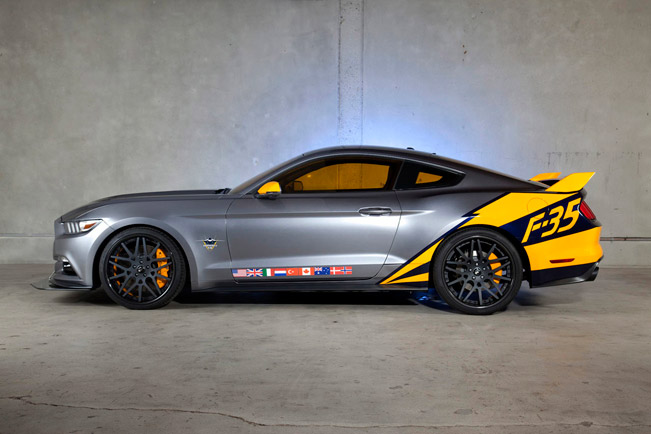 2015 Ford Mustang F-35 Lightning II Edition has an aircraft inspired design. This unique car will be donated and sold at charity auction on 31st of July at the Gathering of Eagles charity event during the Experimental Aircraft Association (EAA) AirVenture, which is World's Greatest Aviation Celebration. The proceeds will benefit the EAA Young Eagles program that helps inspire and motivate the next generation aviators and innovators. For the creation of this unique vehicle Ford was supported by Lockheed Martin. Another interesting fact is that this muscle car is one of the first 2015 Ford Mustangs to be sold.
2015 Mustang F-35 Lightning II Edition has a creative design which was inspired by Lockheed Martin F-35 Lightning II aircraft. The latter is the world's most advanced multi-role fighter jet. This one-of-a-kind sports car is modified Mustang GT fastback. It not only puts emphasis on the new design cues of the brand new pony car, but also exudes a creative connection to the F-35 Lightning.
MAD Industries took the job to modify the F-35 Lighting II Edition Mustang. From the outside, the muscle car is finished in custom glossy and matte titanium paint scheme accentuated by blue and yellow lightning tail livery. The bubble canopy of the stealthy F-35 features a distinctive gold tint on the windows of this Mustang.
The springs of the car are from Eibach, which deliver lower height. The exhaust system is larger and features ceramic-coated outlets. This one-of-a-kind Mustang runs on custom Forgiato 21-inch wheels. Other unique elements here include carbon fiber front splitter, rear diffuser and rocker moldings, mirror skull caps and a vertically-enhanced rear spoiler.
Inside, car's exclusivity is further strengthened by modified instrument cluster, Recaro seats, custom audio system and floor mats embroidered with F-35 Lightning II elements as well as sill plates.
Source: Ford