2014 Ford Mustang Convertible by Hollywood Hot Rods To Debut At SEMA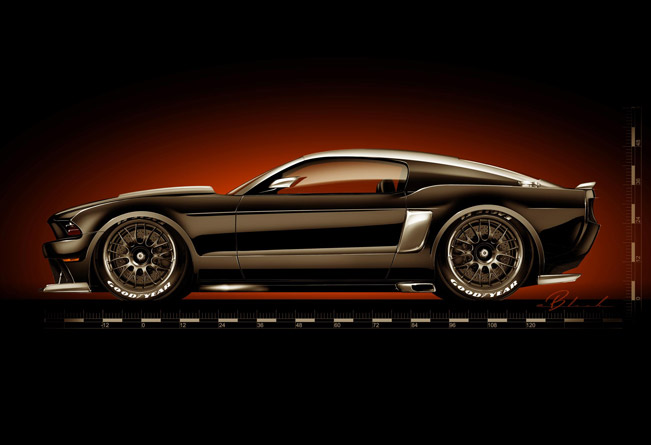 One of the highlights at SEMA Show at Ford Motor Company's stand will be 2014 Ford Mustang GT Convertible transformed by Hollywood Hot Rods. The team envisioned to create something uniquely different than a standard Mustang.
And it definitely did, because the professionals didn't just add accessories and a custom paint job, but in fact have changed the car. They have redesigned some key elements of the car, like the roof and rear section.
The result is an entirely new and bold design that propels Mustang into supercar status while retaining classic Mustang DNA. More than 150 hours of went into reshaping the entire rear section of the car in metal. Additional 250 hours were needed for hand-forming of the aluminum lift-off roof.
Other body modifications that feature the front splitter, side scoops, skirts and diffuser were made in aluminum. What is more, Hollywood Hot Rods decided to enhance the powertrain of this Mustang via a Ford Racing Whipple supercharger and Banks Power water-methanol injection system.
As a consequence, the 5.0-liter V8 engine is now capable of developing 750 horsepower (551 kW). Cortex Racing X-treme grip track suspension system complements the tires. At last, a full custom interior was created in order to round-off the envisioned idea of American supercar.
Exterior:
Handmade lift-off aluminum hard top
Completely redesigned tail section
One-off handmade aluminum body accessories, front grille, air splitter, rear wing
Engine:
5.0-liter V8 with Ford Racing Whipple supercharger
Banks Power water-methanol injection system
Suspension:
Cortex Racing, X-treme grip track suspension including rear Watts linkage and torque arm
JRI coilover dampers at all four corners
StopTech six-piston brakes
Source: Ford