Ford's Police Interceptor Sedan and Utility Vehicles Repeat Top Performance Results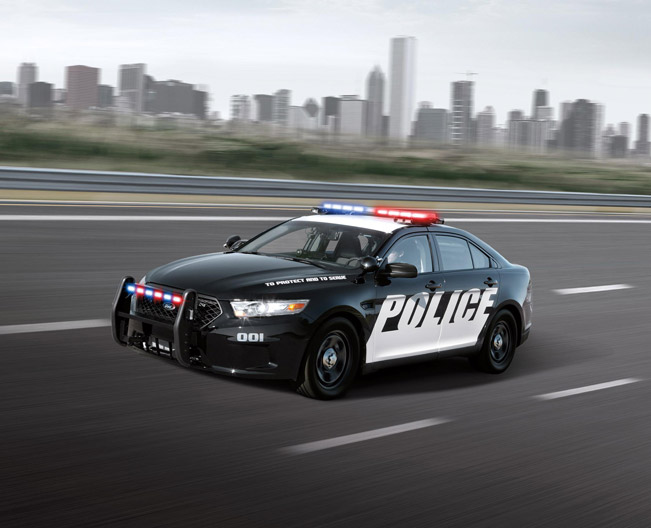 2015 Ford EcoBoost Police Interceptor sedan has effortlessly repeated its top performance in Michigan State Police and Los Angeles Sheriff's Department testing. This means that it still keeps the title "the quickest-accelerating pursuit vehicle". The Interceptor bested all V8-equipped competitors' sedans in testing by both authorities, while Ford Police Interceptor utility with EcoBoost out-accelerated the competition's all-new V8-equipped utility and all V6-powered sedans.
Ford announced that this is great news, because the car still has the best acceleration, quickly closing the distance between an officer and a target vehicle. This is key to safely avoiding high-speed pursuits.
The results of Michigan State Police testing the 2015 model year AWD car reportet a 0-60 mph acceleration time of 5.85 seconds, compared to 6.31 seconds for a competing 5.7-liter V8 AWD sedan. All-wheel drive is standard on Ford Police Interceptor sedan and optional on the competing model.
The vehicle also topped a competing 6.0-liter V8-equipped sedan, which clocked a 0-60 mph time of 6.17 seconds. In addition, Police Interceptor sedan turned a 14.19-second 0-100 mph time, while a competing 5.7-liter sedan posted 15.63 seconds and a rival 6.0-liter sedan took 14.69 seconds.
How about the results of the utility vehicles? Ford Police Interceptor utility, which also comes with a standard all-wheel drive hits 60 mph in 6.55 seconds and 100 mph in 16.13 seconds. A competing all-new utility vehicle powered by a 5.3-liter V8 posted a 0-60 mph time of 7.31 seconds and a 0-100 mph time of 18.99 seconds.
The other results from the Los Angeles County Sheriff's Department are even more dominant for Ford Police Interceptor. Ford Police Interceptor sedan showed a 0-60 mph time of 5.9 seconds. On the other hand, the EcoBoost-equipped utility vehicle not only out-accelerated its competition, but was quicker at 0-60 mph than all base model V6-powered sedans.
Source: Ford