G-Power BMW M6 F13 Coupe - 640HP and 777Nm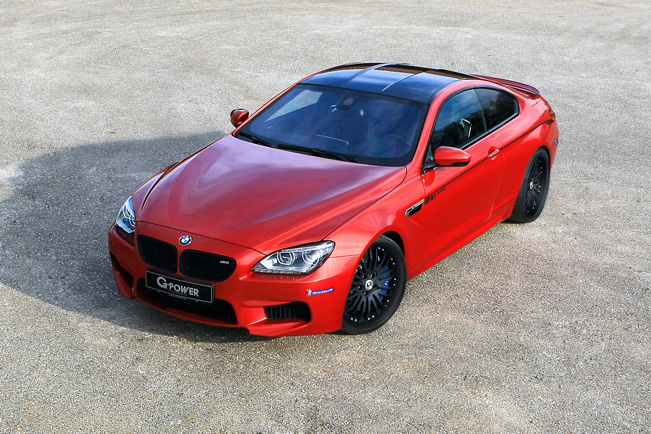 G-Power has revealed their tuning program for the astonishing BMW M6 F13. The performance package is named G-POWER Bi-Tronik III.
The 4.4 liter twin-turbocharged V8 engine is boosted from 560HP (412 kW) and 680Nm (501 lb-ft) to 640HP (471 kW) and 777Nm (573 lb-ft) of torque. 0-100 km/h in 3.8 seconds anda top speed of 315 km/h (196 mph).  This is 0.4 seconds quicker and 10 km/h more in top speed. The price of G-POWER Bi-Tronik III is €5,200
The G-POWER Titanium exhaust system, incl. Titanium link pipes with resonators starting from the down pipe catalysts, gives the BMW M6 a deep, throaty sound that turns heads but is at now time annoying and at the same time saves approx. 12 kg compared to the stock exhaust system. The G-POWER exhaust system is available with four Titanium or Carbon Tailpipes with a diameter of 100 mm, each - €5,985
Other highlight is the set of huge 21" Silverstone RS alloy wheels fitted with Michelin Super Sport tires – 265/30 ZR21 front and 305/25 ZR21 rear - €8,325.
The sports car sits closer to the ground thanks to an adjustable coilover suspension giving nice stance and better handling - €2,179.
Last, but not least G-Power fitted the M6 Coupe with carbon ceramic braking kit for the front wheels - €14,460.
G-POWER M F13
• 640 hp / 471 kW at 6.000 - 7.000 rpm (+ 80 hp / 59 kW) • 777 Nm at 1.500 rpm (+ 93 Nm) • V-max: 315 km/h • 0-100 km/h: 3,8s • G-POWER 21'' forged wheel set SILVERSTONE RS • G-POWER Titanium exhaust system • G-POWER coil-over suspension GM6-RS • G-POWER Ceramic Braking System
Source: G-Power