GeigerCars Garish Green Ford F-150 SVT Raptor Beast Edition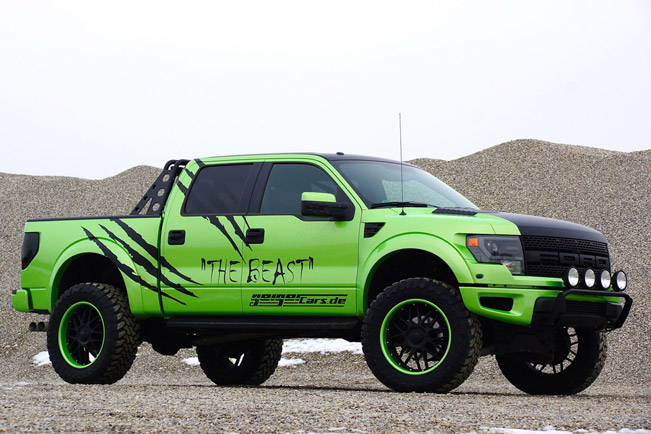 Geiger Cars, a tuning company based in Germany, has released its latest modification on Ford F-150 SVT Raptor. The car has a unique exterior treatment in poison green, which was achieved by through a foil wrapping.
But this isn't the reason this truck is called Beast. Of course, as you have might guessed, it is due to the high-tech power enhancement done on the Raptor's 6.2 -liter engine. Thanks to it the vehicle now develops 572 hp (421 kW) and 712 Nm of torque. The raise was from the production 417 hp (307 kW) and 590 Nm (434 lb-ft).
The next step in the tuning was the suspension lift of the chassis. As a result, this Ford grew from 1.98 m 2.20 m in height. Furthermore, the tuners have added an advanced damping system of the Raptor Fox, which was additionally enhahced for all driving situations, as well as differential lock.
Then, the F-150 SVT Raptor SuperCrew Cab was fitted with Luxury package. The latter adds to the visual stance of the vehicle the following: electrically adjustable seat ventilation and memory package, dual-zone automatic climate control, high-quality multimedia system, steering column and pedals, an extension of the normally closed cargo area, a leader in the tailgate for easy climbing onto the rear platform, front and rear cameras, xenon headlamps and LED lighting.
At last, in order to deliver plenty of grip on any surface, the tuners has given this Ford model a high-quality all-terrain Toyo Open Country tyres. They are in the dimensions of 37x13.5R22 and are fitted to the 10x22' aluminum rims. Option the GeigerCars team has also ensured available headlights on the front bar and LED bar.
GeigerCars Ford F-150 SVT Raptor Super Crew Cab Beast Edition Specifications:
Engine: 6.2-liter V8
Torque : 712 Nm (525 kW)
Power: 572 hp ( 421 kW)
Transmission: Six -speed automatic
Consumption: 17.1 l/100 km Combined
Emissions combined : 340 g / km CO2
Tires: Toyo Open Country ( 37x13.5R22 )
Aluminum Rims: 10x22 inches
Source: Geiger Cars