Guinness World Record for Audi A6 TDI: 14 Countries on a Single Tank

Audi A6 TDI Ultra has achieved the impossible, covering fourteen countries on a single tank of fuel! And if you think this is a hoax, then we should tell you that the Guinness World Records have confirmed the title! Sound's exciting, doesn't it? Audi A6 TDI Ultra has managed to drive through 14 countries and cover a total of 1158.9 miles. And that's on one tank of diesel. This also means that the Audi A6 TDI ultra has achieved an overall averaged 75.9mpg fuel economy.
The Record Road Trip started from the Maastricht, Netherlands, at 9.48am (GMT) last Tuesday and ended in Hungary at 12.44pm (GMT) the next day. Both drivers, Andrew Frankel and Rebecca Jackson, drove 28 hours almost non-stop to complete the mission in an A6 that was entirely unmodified (if there are any doubts).
SEE ALSO: Audi A6 TDI Attempting Guinness World Record
In these 28 hours, the motoring journalist and the racing driver, passed through Belgium, Luxembourg, France, Switzerland, Lichtenstein, Austria, Germany, Italy, Slovenia, Croatia, Bosnia and Serbia.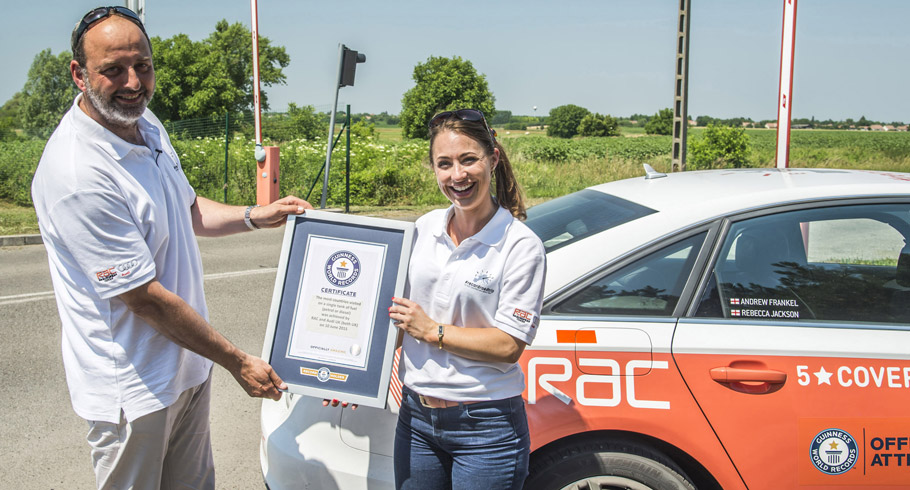 Of course, both drivers faced various challenges in their driving adventure. These included diversions for both heavy traffic because of an accident and a closed tunnel. All this led to an unplanned mountain detour.
They had to maintain an average speed of around 50mph to make this world record possible. So this means that they had to be fully aware of what's going on the road and anticipate what could happen with the traffic ahead. In other words, maintaining constant, fuel-efficient speed and not being caught out by other vehicles was demanded.
The record achieving Audi A6 TDI ultra represents company's pinnacle of the Vorsprung durch Technik. This is Audi's absolute focus on optimum efficiency and outstanding fuel economy and emissions. The 'ultra' badge is also reserved for the A3, A4, A5, A7 Sportback and TT models. They are all currently on sale.
By literally covering almost the half of the continent on a single fill-up, Audi has proven that real-world economy of almost 76 mpg can be achieved in reality. This however happens only when the latest technologies are applied.
| | |
| --- | --- |
| European cities within range of the A6 TDI ultra | Distance (in miles) |
| | 995 |
| | 982 |
| | 915 |
| | 895 |
| | 884 |
| | 848 |
| | 783 |
| | 757 |
| | 701 |
| | 731 |
| | 684 |
| | 544 |
Source: Audi