Hanover CV show: F-A-B – Nissan NV200 is go!
Nissan's NV200 concept van was one of the undoubted stars of the Hanover Show – and designer Ryoichi Kuraoka found an unlikely inspiration for its innovative demountable pod system. "It's based on Thunderbird 2, the one with the pod," he said.
The inspiration isn't recent either. Kuraoka has been with Nissan since 1981 – his CV includes the 1992 Micra hatchback – and he's been a original fan of the British puppet sci-fi series since the 1960s, when he saw episodes on Japanese TV as a boy. "I had the Tracey Island model too," he said.
Sadly, cost rules out putting into production the 'pod' body of the concept, which slides out on rails and is supported by fold-down legs. But the NV200 will become a production reality early next year, when it replaces the Renault Kangoo-based Kubistar compact van in the Nissan range. It'll go on sale first in Japan next Spring, with European sales before the end of 2009.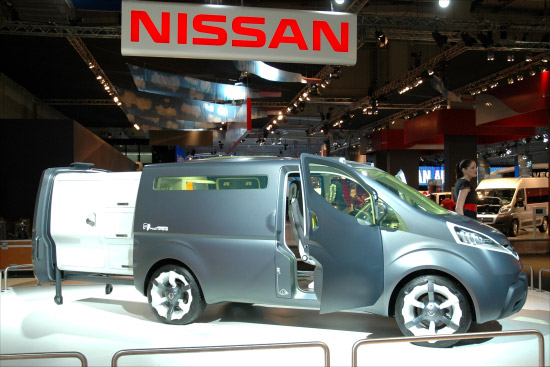 It'll be called NV200 too, as part of a new branding philosophy for the Nissan LCV range, which was quietly introduced with the NP300 pick-up (NP means Nissan Pick-up; NV Nissan Van, logically!)
NV200 has been designed to appeal to a wider global market. For example, the European-designed Kubistar was too large for Japanese market tax breaks, so the NV200 is slightly smaller, based on the Alliance B platform (Clio/Micra) rather than the C platform (Scenic/Kangoo). It meets Japanese size restrictions – 1.7m wide and 1.85m high – but it can still take two Europallets.