2013 Chevrolet Camaro 1LE
Various Camaros have gone under the 1LE label since 1988. It's an upgrade package inspired by the car's involvement in Pro-Am road racing. Now it is on the horizon again for the 2013 SS coupe versions – the 1SS and 2SS that carry a V8 under their bonnets and a manual transmission as standard. Actually, the whole makeover is intentionally reminiscent of the ZL1 spec.
"The Camaro 1LE combines the best elements of the SS and ZL1 to take road-racing performance to a whole new level," said Al Oppenheiser, Camaro chief engineer.
Power levels will be pretty much the same as the ones in the SS - 426 horsepower (318 kW) and 420 lb-ft of torque (569 Nm). The transmission is an exclusive one however - Tremec TR6060-MM6: a close ratio setup tuned for road-racing performance.
The suspension gets new monotube rear dampers as opposed to the twin-tube ones previously used. That way, drivers have more flexibility in terms of adjusting the road behavior while preserving respectable comfort.
Other goodies for track days include the:
Larger, 27-mm solid front stabilizer bar, and 28-mm solid rear stabilizer bar for improved body control

Higher-capacity rear-axle half shafts to cope with increased levels of traction

Strut tower brace for improved steering feel and response

ZL1-based 20 x 10-inch front and 20 x 11-inch aluminum wheels

285/35ZR20 Goodyear Eagle Supercar G:2 tires front and rear (identical to the front tires for ZL1)

ZL1 wheel bearings, toe links and rear shock mounts for improved on-track performance

ZL1 high-capacity fuel pump and additional fuel pickups for improved fuel delivery during high-cornering
At first glance, it would be hard for you to notice all of that but worry not. The 1LE gets some distinctive exterior features as well - a matte-black hood, a front splitter and a rear spoiler. The aforementioned wheels also come in black and have 10-spokes. Can't miss that.
Inside, suede microfiber material covers the flat-bottomed steering wheel and the stubby shifter stick. Most importantly, Chevrolet's MyLink infotainment is available on all 2013 Camaro LT, SS and ZL1 models – a complex interactive system that has Bluetooth, SmartRadio, Pandora and the lot.
A smart electric power steering can sense whether we are at cruising speed or trying to park and adjust the firmness appropriately. Also new for 2013 is an available dual-mode exhaust system, available on Camaro SS models. Again all ZL1 derivatives.
Prices for the 1LE model will start at under $40 000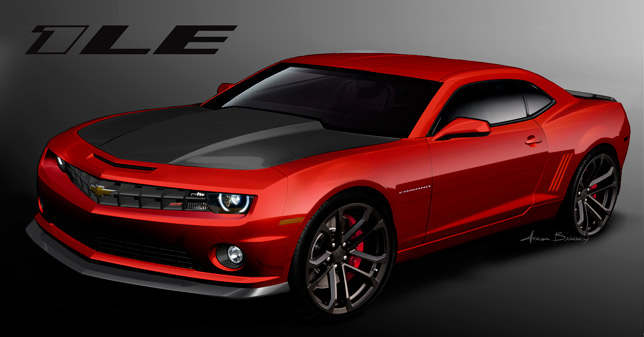 Source: Chevrolet