2016 Honda Accord with Unchanged Pricing from MY2015 but a Lot More Goodies
2016 Honda Accord Facelift was revealed in the end of July with its upgraded dynamic styling, chassis and body. Honda is obviously ready to let the car straight onto the market and has announced its pricing. The sedan variant actually goes on sale today and will be followed by the coupe on August 26.
With its sportier and sophisticated styling, the refreshed Accord now features a lot of revisions and upgrades, especially to the body and chassis. In addition, the new Accord also features for the first time ever Apple CarPlay and Android Auto, although those goodies come only optionally.
SEE ALSO: 2016 Honda Accord and What We Get After the Facelift 
Furthermore, the next advantage of Accord facelift is Honda Sensing, which is one of the most comprehensive safety- and driver-assistive technologies and is considered to be extremely useful. Of course, there are also other great new features like the available HD Radio, front and rear parking sensors and more.
New Trim Level and More
The 2016 model year will also see the birth of a new trim level for the Accord. Standing at the top-of-the-line, the Touring trim will be the first to get the great 19-inch alloys.
All 2016 Accord Sedan grades will be powered by the 4-cylinder i-VTEC engine mated to a CVT. The EPA fuel economy ratings have been improved with 1 mpg to 37 mpg. This is due to the application of upgrades like the lighter weight and re-sculpted all-aluminum hood as well as the innovative aerodynamic elements and friction-reducing features.
Pricing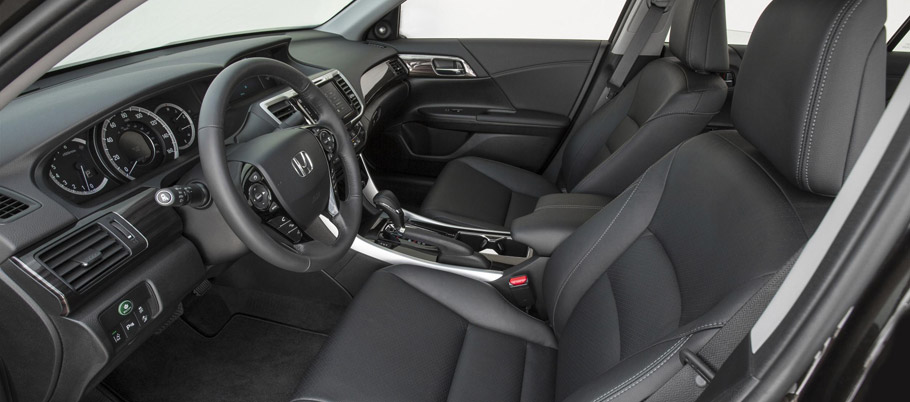 Some of the 2016 Honda Accord trim levels have a starting price unchanged from the previous model year. This is valid for the Sedan LX and Coupe LX-S. If the first one is equipped with 6-speed manual transmission (6-MT), then it costs $22,105 USD. $22,905 USD is the price tag for the Sedan LX with continuously variable transmission (CVT). 2016 Honda Accord Coupe LX-S keeps a steady price beginning at $23,775 USD for the 6-MT and $24,625 USD for the CVT.
Source: Honda