Hyundai And Bisimoto To Create 1000 HP SEMA Show Genesis Coupe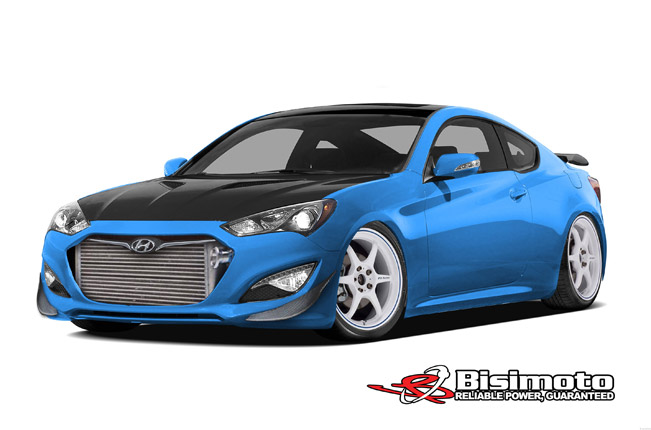 The powertrain guru Bisimoto will partner with Hyundai to create a Monster-powered Genesis Coupe SEMA Show car. Instead of its standard horsepower, the car will produce up to 1000 hp, tanks to the tuning delivered by Bisimoto Engineering.
The latter is famous for its capabilities of extracting mode power out of production-grade, everyday powerplants. Under transformation will go the turbocharged Hyundai-factory-based 3.8-liter V6 engine. Bisimoto will utilize Genesis Coupe 3.8 R-Spec engine as a core building block, and around it will add newly-designed internal parts.
Not every vehicle can withstand the modifications. Hence, the core powerplant must be strong enough. Next to the extensive work underhood, Bisimoto created a custom Electric Blue paint, Denmatic design graphics package, ARK hood and Carbon Fiber decklid. At last, at the rear, a Burns stainless exhaust and Bisimoto rear badge round out the visual impact.
Bisimoto Hyundai Genesis Coupe concept vehicle will be presented in Las Vegas at SEMA Show, later this year.
3.8-Liter Lambda Engine Modifications:
• Stock Hyundai Lambda 3.8-liter V6 engine
• Bisimoto-developed internal components:
o Steel connecting rods
o Intake gasket
o Injectors
o Level 2.4 camshafts
• Twin Bisimoto/Turbonetics BTX6462 turbochargers:
o Godzilla blow-off valve
o Dual RG45 wastegate
• Arias forged pistons
• Golden Eagle sleeves
• WPC metal surface treatment
• Supertech valvetrain
• Vibrant VanJen clamps and stainless hardware
• Magnafuel 750 fuel pump
• ARP head, main, and wheel studs
• Portflow custom headwork
• AEM Infinity EMS
• Custom smart ignition coils
• NGK Iridium spark plugs
• Puröl Elite synthetic oil
• Spearco intercooler
• Griffin radiator
• Kinsler fuel filters
• Bisimoto-spec Action Ironman clutch
Chassis Modifications:
• Bisimoto roll cage
• Progress coilover suspension and anti-roll bars
• Drive Shaft Shop 5.9 Axles and driveshaft
• Incurve 20x9.5 and 20x11 aluminum wheels
• Toyo Tires R888 R-Compound tires
Interior Modifications:
• Buddy Club racing seats and harness
• Bisimoto reservoir socks
• Racepack IQ3 dash
• Bisimoto oil cap
• Odyssey dry cell battery
• Rywire mil-spec harness
• G&J braided lines
Source: Hyundai