Hyundai HND-9 Concept [sketch]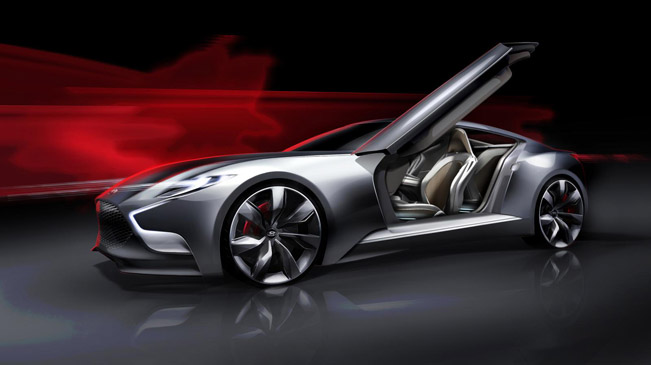 Hyundai has released some interesting sketches of the new HND-9 Concept vehicle, which is set to make its official debut at the 2013 Seoul Motor Show, next week. The 'HND-9' represents an evolution of Hyundai's fluidic sculpture design philosophy. The ninth concept model developed by Hyundai Motor Group's R&D Center in Namyang, Korea, the HND-9 features sophisticated details in every design element, reinforcing a premium look.
Fluidic yet sleek character lines that stretch from headlamp to trunk, voluminous, powerful car body and a striking, wide hexagonal-shaped radiator grille underscore the high performance image of the concept.
Furthermore, butterfly doors, spiral-shaped lines connected to the headlamp, softly glistening silver coating, dual twin muffler and uniquely designed head and rear lamps give the car a sleek futuristic look.
The HND-9 is powered by a 3.3 liter turbocharged GDi engine with 370HP (272 kW) sent to the rear wheels through an 8-speed automatic gearbox.
Source: Hyundai