Hyundai i10 Blue - Most Genuinely Economical Petrol Engined Car
Hyundai i10 Blue is powered by a new ultra-efficient 1.0 litre petrol engine withIntelligent Stop & Go technology. The three-cylinder power unit delivers 68BHP, which is not enough for fast overtaking, but it is superb for everyday driving in the city.
Mainly, because of the great fuel economy – 67.3MPG and the low CO2 emission – 99 g/km. 0 to 100 km/h takes 14.8 seconds, which is a whole second quickere than the previous model. Hyundai i10 stands on small 13" wheels fitted with low-rolling resistance tires.
Furthermore, the small city car is priced at just £9 195.
"Nothing gets our users going quite like fuel economy: when consumption in real life fails to live up to the official published figure, they soon let us know about it. So it's good to be able to reward the models which come closest to matching – or improving on the official fuel consumption figure and the Hyundai i10 Blue is one of the best examples of this by genuinely delivering over 60mpg in real-world driving.", commentedDan Harrison, Editor, HonestJohn.co.uk.
Tony Whitehorn, Hyundai Motor UK managing director: "Hyundai is committed to researching and developing cleaner, more efficient powertrains to reduce fuel consumption and CO2 emissions.  The Blue drive system – which includes an ultra-efficient 1.0-litre petrol engine and Intelligent Stop & Go technology – ensures that the i10 Blue is one of the cheapest cars to buy and run on sale today.", he added.
The interior has a few changes to the Blue to mark it from other i10s, save for some BlueDrive badging on the doors and tailgate.
The standard equipment includes Air-conditioning and an iPod connection. i10 Blue is a perfect choice, if you need small city car.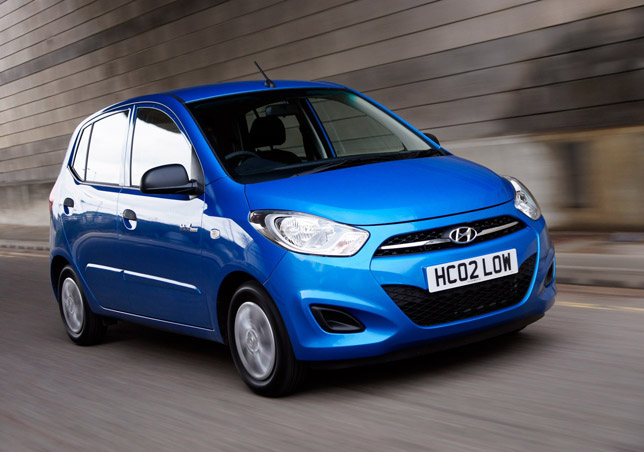 Source: Hyundai