2014 Hyundai i10 Revealed And To Debut In Frankfurt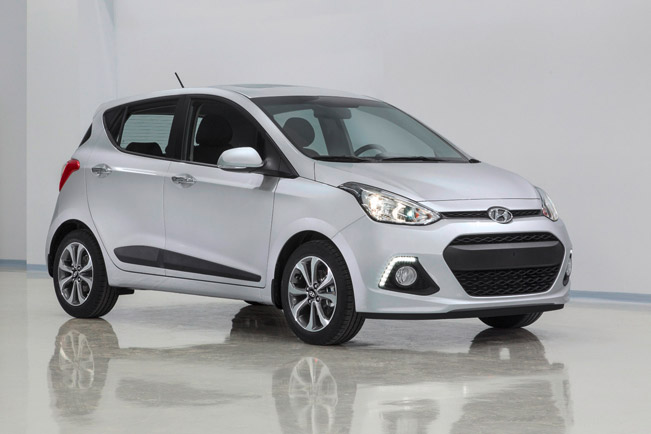 Hyundai has just revealed the first official pictures of the new generation 2014 Hyundai i10, which is brand's completely-new A-segment car that will be distributed across the European continent. The new model appears five years after its predecessor.
2014 i10 shows significant progress for Hyundai in the segment. It now offers new attributes and generous levels of equipment, space and functionality. Adding to them are the new sophisticated design, refined ride qualities and a quiet cabin.
Moreover, the customers of the new model will also be offered better comfort and safety equipment including stability control and front curtain airbags. In addition, there is also being available optional equipment such as automatic climate control, heated leather steering wheel and cruise control with speed limiter.
The car is now longer (+80 mm), wider (+65 mm) and lower (-50 mm) than the previous model. This results in more spaciousness in the cabin as well as best-in-class legroom and cargo capacity. Front and rear passengers benefit from combined legroom of 1,890 mm, while boot capacity has been enhanced to 252 litres.
The new generation i10 has as a basis new platform which includes 5mm-longer wheelbase and relocated rear dampers. The latter now deliver better wheel control over all types of road surface. In addition, i10 has also been carefully tuned to offer refined driving dynamics and low noise levels.
The design team has made the car with dynamic shape which follows fluidic sculpture that emphasizes athletic proportions and generous exterior dimensions. The new and refined exterior is continued in the interior, which in turn is stylish and includes high-quality materials on key surfaces.
2014 Hyundai i10 will enter production in September this year. More information will be released ahead car's debut at the Internationale Automobil-Ausstellung (IAA) in Frankfurt in the same month.
Source: Hyundai