Hyundai Releases Couple of Detailed Teasers of IONIQ

Hyundai IONIQ has been revealed in two additional teaser images after it has been introduced as a project a week ago. Now, the new renderings show the entire exterior of IONIQ and some exclusive details of the high-tech interior. It is obvious that the car looks innovative supporting its alternative-fuelling, and has head-turning aerodynamic looks which will offer excellent performance.
IONIQ will be the first car in the world which will offer a choice of three efficient and ultra-low-emission powertrains. The first one is entirely electric, the second is a combination of a plug-in gasoline and an electric hybrid, and the third will offer gasoline/electric hybrid propelling. In other words, the car is destined to deliver responsive driving experience, which also meets the needs of reducing the impact on the environment.
SEE ALSO: Here is Why Hyundai IONIQ Breaks the Hybrid Stereotype 
This ideology is reflected in the name of IONIQ, which references elements of its creation. ION is an electrically-charged atom, linking to the car's clever combination of electrified powertrains. The second part of the name references how unique this car is to Hyundai's range, while the Q is depicted in the car's logo as a visual breakthrough.
Exterior
The first image shows that Hyundai IONIQ has a sleek, coupe-like silhouette. There are a lot of intriguing details, contributing for enhanced aerodynamic characteristics. The contours will minimize wind resistance and efficiently manage the airflow around the exterior. The front of the car is typical for Hyundai's design, and features signature hexagonal grille with active 'flaps' that can direct airflow over the car. At the grille we see a gloss-black element that extends outwards to the new headlamps with integrated 'C'-position lights.
Interior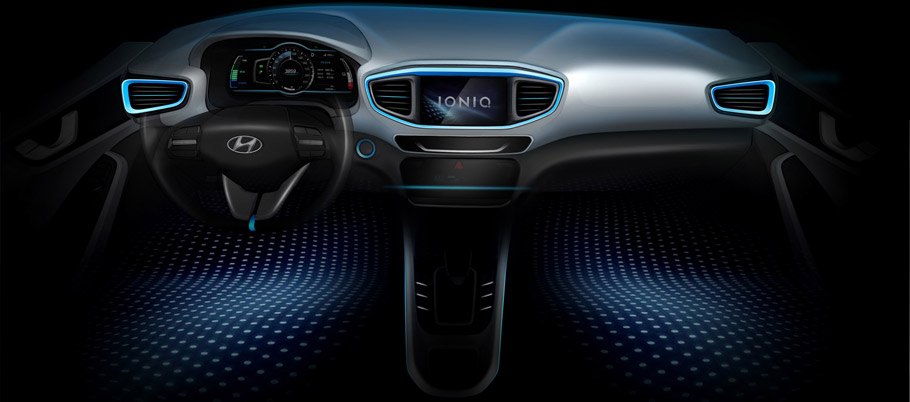 There is nothing much shown of the cabin. But we can see that it is smooth, elegant and clutter-free. There will be probably an efficient utilization of interior space as well as layout of control functions. The surfaces appear simple but stylish. Hyundai also said that they will be made of eco-friendly materials to convey a futuristic yet warm cabin ambience.
Hyundai IONIQ is going to be launched in the beginning of next year. But first, it will be premiered in Korea in January, and in March Geneva and New York.
Source: Hyundai