Hyundai Partners with Bisimoto for 708 HP Flex-Fuel Sonata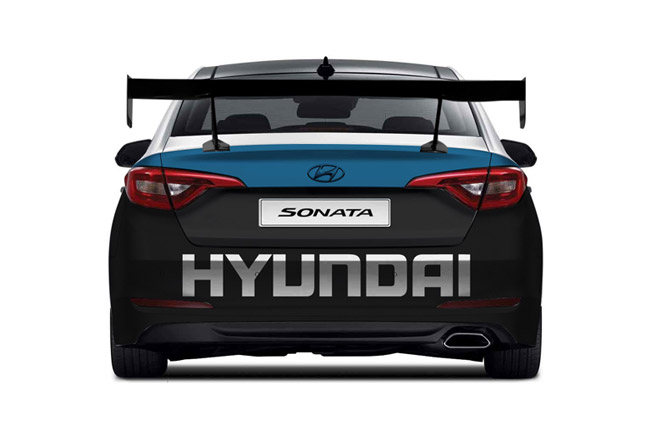 Hyundai and Bisimoto Engineering are joining forces for the third year in a row, to create a 708 horsepower Sonata for this years SEMA show in Las Vegas. Last year, the Bisimoto's team, which specializes in extracting huge output from Hyundai's engines, has created the 1000 horsepower Bisimoto Genesis Coupe for the same show.
This time, the power gurus will be working on Hyundai's 2.4-liter "Theta-II" 4-cylinder engine. They will be using a combination of strengthened internal components such as forged pistons, connecting rods, a high-revving valve train and camshafts and high-boost turbocharger. The goal is to extract exactly 708 horsepower (520 kW) from the unit. The power will be sent to the road via six-speed manual transmission.
The team at Bisimoto conducted hundreds of hours of testing, failure analysis and prototyping. The result is 18 new products which will be engineered and produced in house to deliver the 708 horsepower. Furthermore, the Sonata will feature a special custom laminated body wrap and graphics, as well as extensive overhaul under the hood.
Rounding out the exterior credentials of the car are the Bisimoto front splitter and aero package, Fifteen52 18-inch aluminum wheels and the Burns stainless exhaust system. Inside, the interior has been given a sporty feel with the addition of racing harnesses, AEM wideband gauges and EK Autoworx interior paint.
2015 Bisimoto Engineering Sonata will offer space for four and will be revealed at Hyundai's SEMA press conference on 4th of November.
2.4-LITER THETA II ENGINE MODIFICATIONS
Bisimoto-tuned 2.4L Theta-II engine
Bisimoto intake gasket
Web Level 2.4 camshafts
Turbonetics TNX 82/64 turbocharger
Turbonetics blow-off valve
Turbonetics wastegate
Deatschwerks 2200cc Injectors
R&R steel connecting rods
Arias forged pistons
AEM Infinity 6 ECU, and smart coils
Spearco intercooler
Golden Eagle sleeved block, and intake manifold
Griffin Radiator
Supertech valvetrain
Vibrant Vanjen clamps and stainless hardware
Magnafuel 750 fuel pump
ARP head studs
Portflow custom headwork
VP E85R Fuel
Kinsler fuel filters
PurOl Elite Synthetic Oils
NGK Iridium spark plugs
CHASSIS/SUSPENSION MODIFICATIONS
Bisimoto roll cage
Progress coil-over suspension and sway bar
Fifteen52 18x8 Tarmac aluminum wheels
ARP wheel studs
Bisimoto-spec Action Ironman Clutch
EXTERIOR MODIFICATIONS
Extreme Autowerks custom laminated body wrap
Type 2 graphics
Bisimoto splitter
Wasp Composites Aero package
Denmatic design scheme
Burns Stainless muffler and hardware
INTERIOR MODIFICATIONS
Bisimoto reservoir socks
Racepack IQ3 dash
AEM wideband gauges
Odyssey ER-25MJ dry cell battery
Electronics Management mil-spec harness
G&J braided lines
EK Auto Worx interior paint
Source: Hyundai