Hyundai Veloster Midship Concept - 300HP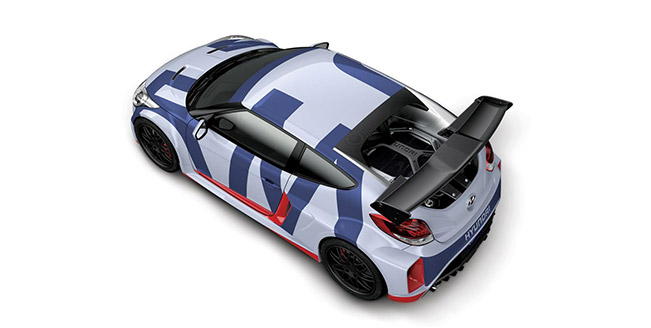 Hyundai has unveiled the Veloster Midship Concept this week in South Korea at the 2014 Busan Motor Show. The one-off model comes with mid-mounted engine, wide body-kit and a huge rear wing. There are also racing alloy wheels fitted with performance tires.
The Veloster Midship Concept is created by the same team that worked on the i20 WRC. The two-seat Veloster has a rear mid-engine layout and the power unit has been installed right after the rear seats within the wheelbase to provide a better weight distribution which should improve handling and make the car more agile around the corners.
Other special features include a light aluminum suspension as well as a strengthened chassis. The engine is a turbocharged four-cylinder 2.0 liter Theta GDI – 300HP (220 kW).
Outside, the Veloster Midship features new front and rear bumpers, extended fenders and a big rear wing. The car is fitted with racing exhaust system and a lot of carbon fiber elements. There are no pictures of the interior, but it comes with bucket seats and six-point harness.
Nothing is mentioned about series production, but the Veloster Midship looks pretty much production ready and will be a perfect track toy.
Hyundai also presented the all-new AG large luxury sedan at the Busan Motor Show in South Korea.
Source: Hyundai