Infiniti Q50 Eau Rouge at Spa-Francorchamps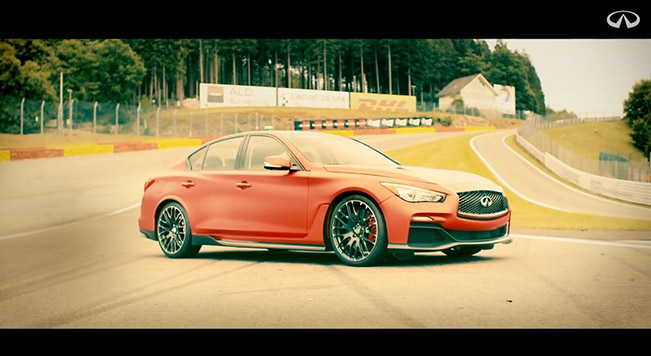 Infiniti has published several promotional videos of the Q50 Eau Rouge Prototype hitting the world's famous Spa-Francochamps racing circuit.
Sebastian Vettel, Infiniti's Director of Performance and four-time Formula One World Drivers' Champion for Infiniti Red Bull Racing, had the honor of putting the car through its paces as part of a social media powered race against U.S. professional race driver Parker Kligerman and Nine-Ball World Champion snooker player Pan Xiaoting of China.
"Even though it was difficult to get a proper feel for the car's performance due to the wet track, the engineering team have made definite improvements to the car in the areas of steering and suspension since I first drove it earlier in the year," commented Vettel.
"There is definitely no shortage of power from the Q50 Eau Rouge. All in all it was an interesting day and we had fun. It was a privilege to be given the task of driving the Q50 Eau Rouge on one of the most demanding corners in the world.", he added.
The Infiniti Q50 Eau Rouge is powered by an aluminum and magnesium twin-turbo 3.8 liter V6 24-valve engine – 560HP (412 kW). Some of the highlights include bespoke Infiniti engine mapping, air intake and exhaust, and F1-inspired aerodynamic bodywork and more The engine is connected to a 7-speed automatic gearbox. 0-100 km/h in 4.0 seconds and a top speed of 288 km/h (180 mph).
Parker Kligerman on the Eau Rouge Corner
Source: Infiniti