The Distinguished Infiniti Q50 Eau Rouge Design Concept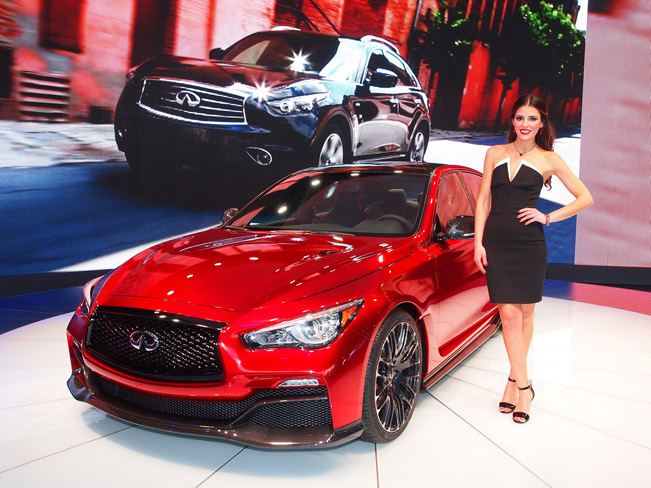 NAIAS attendees have the benefit of a full view of the fancy named Infiniti Q50 Eau Rouge Concept*. It's a design concept so it's all about the looks and drama.
It's only 20 millimetres wider and a bit lower than your average Q50, yet Infiniti are adamant that the only elements retained from the original are the front doors and the roof pillars. In other words, every other body panel has been replaced. Just to be sure that the Eau Rouge really does stand out from the commons, Infinity have went for a customized red coating and dark-chrome framing. The latter applies to the double-arch front grille, the glasshouse surrounds, the door handles and the deck lid accents.
Inside, there's a "high-grip" steering wheel flanked by two paddle-shifters. The red accent makes its way into the interior as carbon fiber inserts on the doors, and the center console, while, again, dark-chrome replaces all that which used to be silver-chrome.
If they were ever to build the Rouge, Infiniti envision a forced induction 500+ bhp power plant nestled in the engine bay:
"Through our various alliance partners we have access to a range of engines featuring this performance capability which, with a fair amount of engineering effort, can be developed to exhibit Infiniti character..." comments Johan de Nysschen, President of Infiniti Motor Company Limited.
There's also a projected torque value of 600 lb-ft. That's quite a lot, could the real-life Eau Rouge end up baring a diesel heart?
*Eau Rouge is actually the name of a very specific corner at the Belgian Spa-Francorchamps race circuit.
Source: Infiniti