Is Skoda Bringing Revolution to the Familiar Design Language?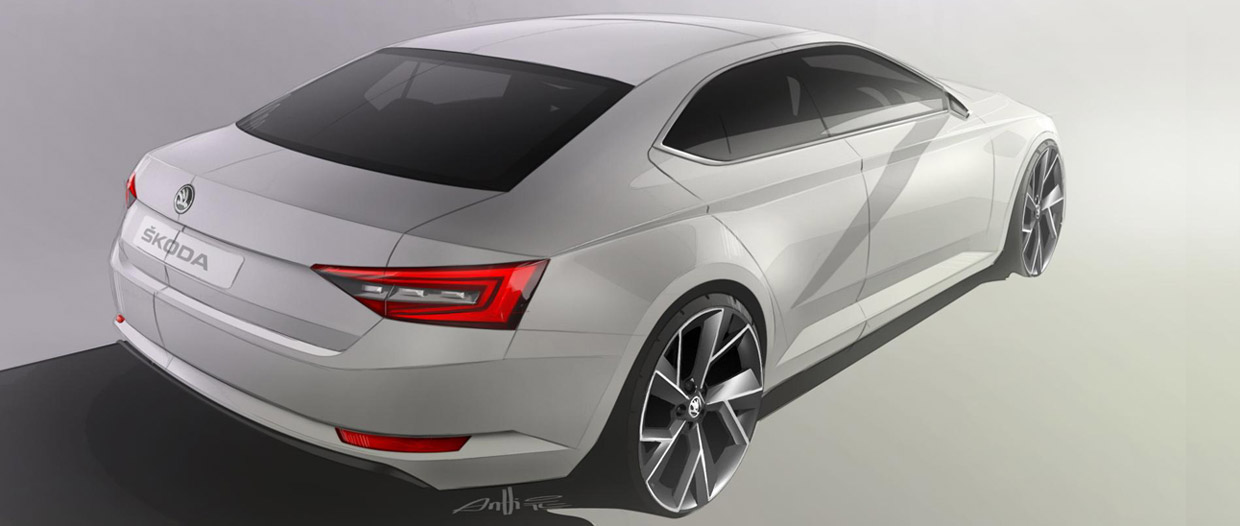 Since Skoda has announced the reveal of the next generation Superb model in February, we were wondering whether there will be some sort of changes in its design. Today, the company has revealed the next teaser image of the famous model and it clearly shows some innovations and changes in the familiar design language. The new sketch shows an expressively designed saloon "full of class and passion".
In other words, the design is sophisticated and at the same time elegant, dynamic, contemporary and expressive. The flagship car is undoubtedly inspired by the Skoda VisionC concept.
As it is visible from the sketch, the new Superb will add large wheels and gently rearward-sloping roof line. It will include clear geometry, strikingly contoured surfaces, sculptural shapes, precision and elegant lines. As if it was made from one piece.
The model is about to make an expressive impact on design of the mid-class segment due to its muscular look. Skoda has disclosed that these unique shapes and the entire design philosophy, on which the car is based, can be also found in the interior.
The vehicle will be built on Volkswagen's MQB technology. This is how the Czechs company will bring about qualities from the higher vehicle classes into the automotive mid-class. Furthermore, Skoda also promises that the car will offer the best values in terms of comfort, infotainment and connectivity, safety, fuel-efficienvy, consumption and performance.
Rumors say that 2015 Superb will shed 75 kg off and it is likely to be powered by the with 1.4-liter petrol engine. The unit will probably produce around 125 horsepower (92 kW).
The third generation model is going to make its world premiere in Prague in February next year. Then it will be introduced at the Geneva Motor Show in March, while the market launch is scheduled for the summer of 2015.
Source: Skoda