Jeep Wrangler Sport Arrives with More Power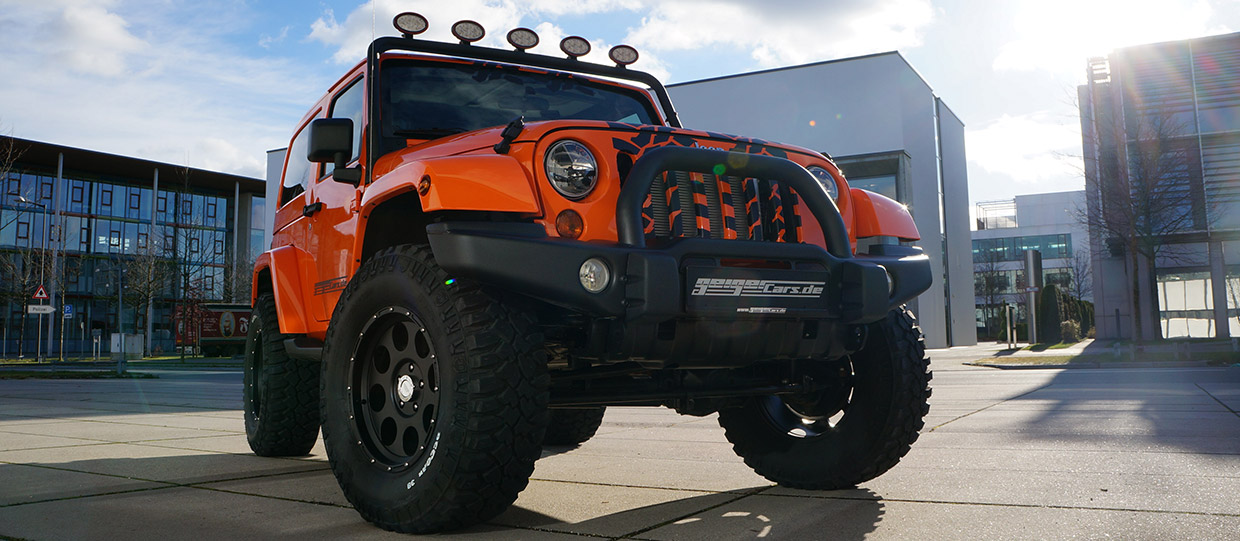 Known for their styling and performance improvements for US cars, the Munich region-based professionals at GeigerCars.de provide a Jeep Wrangler with some significant modifications. Like a supercharger upgrade that boosts the Jeep's power for example.
Thanks to the GeigerCars.de supercharger, the Wrangler's 3.6 liter V6 engine is now able to pump out a power output that is 80 HP and 70 Nm of torque more than before. Thus, the vehicle now has to tame 356 horses while giving 417 Nm of torque respectively.
Other components which are part of the conversion are: a cold air intake box, charge air inter-cooler and bespoke ECU remapping. Furthermore, power and throttle response are helped by GeigerCars.de four-outlet-pipe stainless steel sports exhaust. It reduces back-pressure and is able to offer more sporty and harmonious sound. If such sound could be described as harmonious… Maybe harmonious in a rougher way.
What is more, the off-road capability of this powerful automotive monster is improved by a riser kit that lifts the ground clearance by 2.5 inches and also raises the seating position. Looking tougher than ever, this Jeep Wrangler Sport benefits from 18-inch alloy wheels with 305/70 Mickey Thompson tires. The tuner also gives the Jeep five powerful LED E-marked street legal auxiliary lights, front bumper bull bar and strong metal front skid plate, protecting the front grille and the undercarriage when going through a difficult terrain, while the rear bumper gains a special carrier for the big spare wheel and a water tank.
Lastly, this vehicle comes with the factory automatic transmission, hardtop, leather upholstery, high-end audio system, and a kilometers speedometer.
The completed 2015 GeigerCars Jeep Wrangler Sport with all the components costs 64,200 euro. Yet, they can be ordered separately.
Source: XMedia-Group