Kia Cee'd Sporty Wagon
The all-new Kia cee'd Sporty Wagon will make its world premiere at the 77th Salon de l'Automobiles in Geneva on 6 March, in production-ready form with a unique extended tailgate for maximum accessibility to the luggage area.
"The new Kia cee'd Sporty Wagon retains all the attributes of the cee'd hatchback and offers consumers extra practicality and versatility, with a unique extended tailgate design, while keeping stylish stand-alone good looks with a truly sporty feel," enthused Mr Jean-Charles Lievens, Senior Vice President Kia Motors Europe. "With ride, handling and performance every bit as responsive as the hatchback, the Sporty Wagon will be available with a similar choice of engines and specifications. The Sporty Wagon is sure to delight existing Kia customers and to attract European consumers who have not yet considered our brand."
The 4.5-metre long cee'd Sporty Wagon has an unusually long wheelbase and will offer class-leading passenger and luggage space, plus highly competitive levels of equipment and state-of-the-art active and passive safety. Customers in Europe will be able to choose from a line-up of 18 Sporty Wagons, with three equipment levels (LX, EX and TX), five engines, with manual or automatic transmissions, and an extensive range of optional equipment.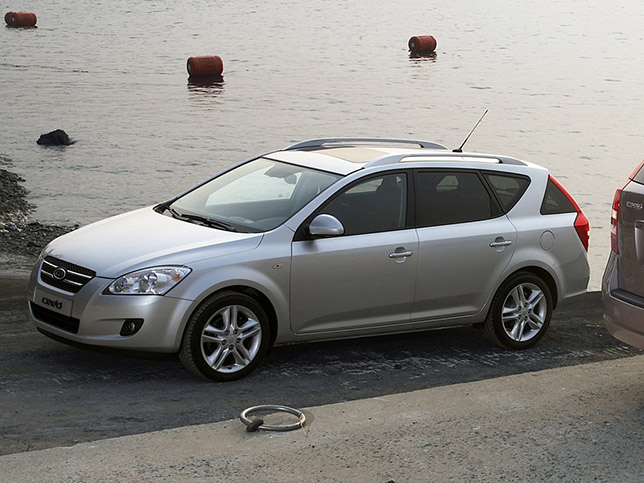 To boost load carrying ability and versatility, the wagon's overall length is increased by 235 mm, with all of that increase behind the rear wheels, and overall height is up by 10 mm. Luggage capacity goes up to a total of 534 litres – loaded up to the bottom of the rear windows – almost 200 litres more than the cee'd hatchback.
The tailgate on the cee'd Sporty Wagon is unique in the C-segment, and designed to give excellent access to the load area. The top hinges have been moved forward by 225 mm (compared to the cee'd hatchback), so the tailgate has reduced outswing and upswing, allowing users to stand closer to the car and the tailgate to be fully opened, even in restricted parking spaces.
For its new cee'd Sporty Wagon, Kia will be offering most customers the same choice of five Euro4 compliant engines and transmissions as the hatchback model – depending on individual markets. Power outputs range from 90 to 143 ps, including an all-new, highly responsive 1.6-litre 115 ps diesel engine designed, engineered and manufactured by Kia in Slovakia.
The launch of the Kia cee'd family (five-door hatchback from December last year, five-door Sporty Wagon – from August and three-door Sporty Hatch – from December) marks a major turning point in Kia's history. The bringing of this trio to the marketplace is the start of a new era. They are the first-ever Kia cars designed and manufactured in Europe and will introduce a qualitative revolution for the brand.