KTM collects motorsport vehicle development award
KTM has been recognised by a panel of motorsport experts for the development of a track-only version of its X-Bow sportscar: the KTM X-Bow 'Race'.  The Austrian company was presented with the 'Vehicle Development of the Year' Award at the Professional Motorsport World EXPO in Cologne on 11 November.The X-Bow 'Race' was developed in parallel with the road-legal car, the Austrian motorcycle manufacturer's first four-wheeled offering.  Much of the development work was carried out during its dominance of the inaugural season of the Sports Light class of the GT4 European Cup, in which X-Bow drivers took the first three championship places.  The X-Bow 'Race' cars were entered in the championship by Reiter Engineering, with the full support of KTM.
Toni Stöcklmeier, KTM motorsport director, who collected the award at the Professional Motorsport World Expo gala dinner, said: "We've just completed our first racing season with the X-Bow 'Race' and were delighted to win the Sports Light category.  And now we're honoured to accept this award for our extensive work on the development of the car.  This is a great pleasure for the whole of the KTM Sportcar team and shows once more that we're constantly striving to deliver our 'Ready to Race' philosophy for our customers."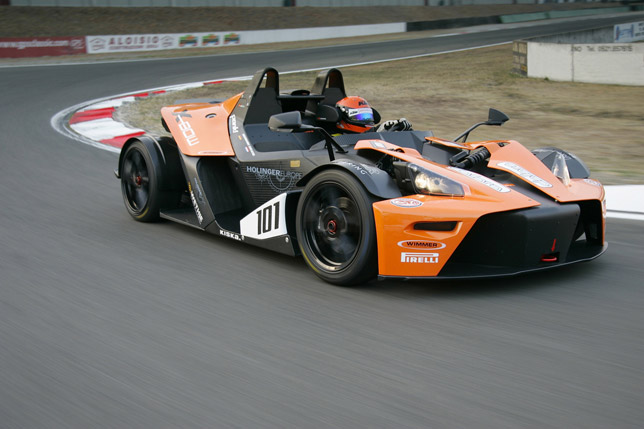 The significance of the Vehicle Development award is demonstrated by the shortlisted contenders the X-Bow 'Race' beat in its category: the new Acura ARX-01b AMLS car, the Mygale M-08 British Formula 3 chassis, and the Renault R28 Formula 1 car.
Fully FIA homologated, the open-wheeled racer is now available to motorsports teams and drivers following its official launch in October.  The completion of its development was accompanied by announcements that KTM is establishing two European championships for X-Bow 'Race' competitors, and that the company will offer a Customer Racing Service – a dedicated support package provided by KTM for drivers competing in X-Bows around the world.