KTM X-Bow GT By Wimmer Rennsporttechnik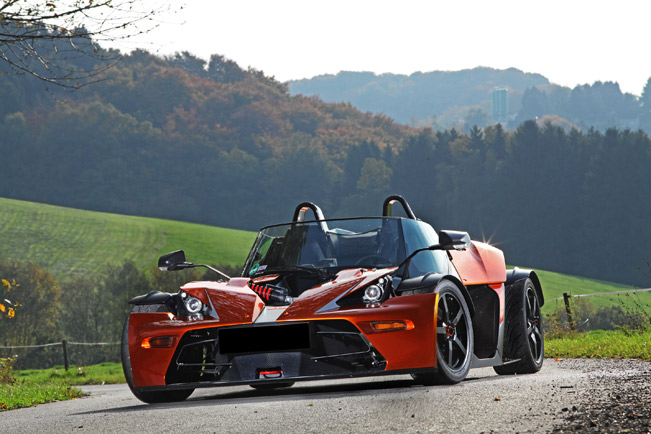 It takes a special kind of person to have a look at a KTM X-Bow GT and go: "You know what? I want this to be madder. And I'm not talking madder by a degree. I want this to be able to blow your mind." Here's a testament, however, that there are such people. What you are looking at is Wimmer Rennsporttechnik showing off their latest abomination: a stock GT converted it into a machine that is, as they say, beyond recognition.
Okay, the profile of an X-Bow is very recognizable. Still, the figures sure do go beyond what we expected to hear. The original KTM GT boasts 285 hp and 420 Nm of torque, but the Wimmer people have managed to up the scale to 436 hp and 500 Nm of torque. Zero to sixty miles an hour now stands at 3.3 seconds they say. Although they specialize mainly in chip-tuning and engine modifications, with the KTM X-Bow GT, they have gone the extra mile. Apart from fiddling with the engine, they have added a custom-made turbocharger, a 100-cell sports cat converter with a Y-pipe, an all-new exhaust system , a high-pressure fuel pump, a pre-feed fuel pump, and even a new water pump.
In addition, Wimmer have thrown away the seats and bolted a set of their own with "orange colored seams", replaced the gear knob and brake lever, added a sports muffler and finished off with four center lock racing wheels.
Mad enough? We think yes.
Source: Wimmer Rennsporttechnik
Wimmer Rennsporttechnik
Wimmer Rennsporttechnik