Lamborghini Veneno Roadster - Price €5,699,999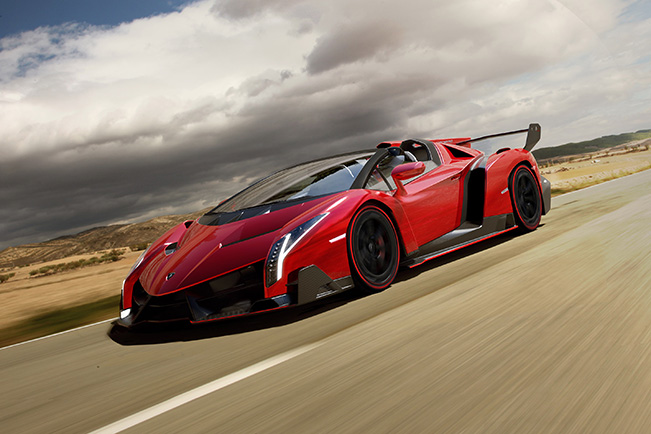 One of nine Lamborghini Veneno Roadster is now available on the market in Germany. The extreme sports car is priced at whopping €5,699,999, which is a lot more than the original starting price of €3.3 million. There is no doubt that somebody will purchase it, because a Veneno Roadster is a huge investment rather than an expensive toy.
Lamborghini Veneno Roadster is powered by a 6.5liter V12 naturally aspirated V12 engine with 750HP (552 kW) at 8,400RPM and 690Nm (507 lb-ft) of torque at 5,500RPM. The engine is connected to a 7-speed ISR transmission and a permanent all-wheel drive system. 0-100 km/h in 2.9 seconds and a top speed of 355 km/h (221 mph).
The performance specs are impressive, but the car is a lot more than that. It is built entirely from carbon fiber (including the wheels) and weighs just 1,490 kg (3,285 lbs). The weight/power ratio is 1.99 kg / HP.
The wheels are 20" at the front fitted with Pirelli ultra-performance tires – 255/30 ZR20 and 21" at the rear wrapped in 355/25 ZR21. There is also ESP/ABS with different ESP characteristics managed by drive select mode. The steering gear boasts three different servortonic characteristics managed by drive select.
Source: mobile.de