Lamborghini Veneno Roadster On A Boat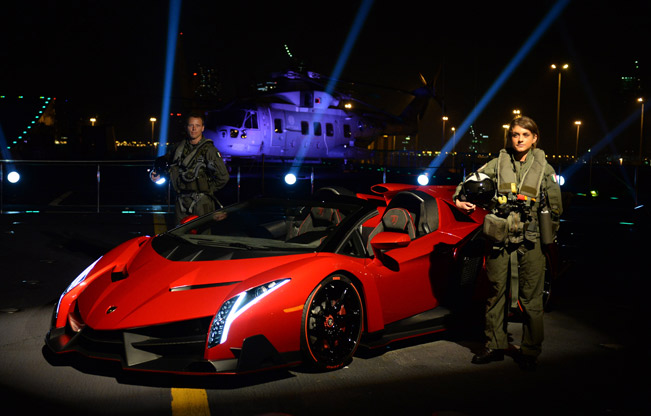 Few things can match top the grandiose entrance arranged for the Bentley Continental GT a couple of years ago. This, however, really does takes the cake. It's the Lamborghini Veneno Roadster... on an aircraft carrier... in Abu Dhabi.
That's right, it's the hypercar's public debut. The atmosphere must have been thoroughly Italian and we are not looking simply at the Lambo. His Excellency Giorgio Starace, Italian Ambassador to the UAE and the Admiral of High Seas Forces, Paolo Treu were among the honarable guests being served by a renown chef. There was a catwalk (a 240 meter ship is the ideal place for a catwalk, isn't it?) where fashion designer Giada Curti offered a tableau vivant of her creations with ten top models. Even footballer Fabio Cannavaro were among the first to sit in the Veneno. Stephan Winkelmann, President and CEO of Lamborghini, commented on the event saying, "We are honored that Lamborghini was chosen to represent the Italian car industry in the UAE, as a perfect example of iconic Italian super sports cars, and that we have the opportunity to show the Veneno Roadster for the first time in Abu Dhabi. Lamborghini has an extremely strong following in the region for its super sports cars, with the Middle East one of our largest markets in the world."
Lamborghini sure know how to target their audience. If anyone's going to afford the 3.3 million Euro Veneno Roadster, it's going to be someone who has an oil well in their backyard. No one of the nine people who will eventually get one will feel cheated, though. The Lamborghini Veneno Roadster is not just a metal art piece. It's not even metal. All of the exterior is CFRP. The insides of the carbon fiber monocoque too benefit from lightweight design – CarbonSkin is used to clad the entire cockpit, the seats are made from Lamborghini's patented Forged Composite. As a result, the Veneno Roadster weighs 1,490 kilograms. That's pretty impressive for an open-top.
Lamborghini say that every outlandish line of Veneno's design follows function. In other words, aerodynamic efficiency akin to that of a racing prototype. There's plenty of downforce while the drag is reduced to a minimum. Even the wheels have a specific shape that channels cooling air to the massive brakes.
All of this is good news for the engine compartment. The 6.5 twelve-cylinder powerplant can unleash all of it's 750 hp in order to get you from 0 to 60 in just bellow 3 seconds. You will continue accelerating until the electronic limiter kicks in at 220 mph. No mechanical sympathy required – the ISR transmission with five modes, the permanent all-wheel drive and the pushrod suspension with horizontal sprint/damper units can all take the abuse.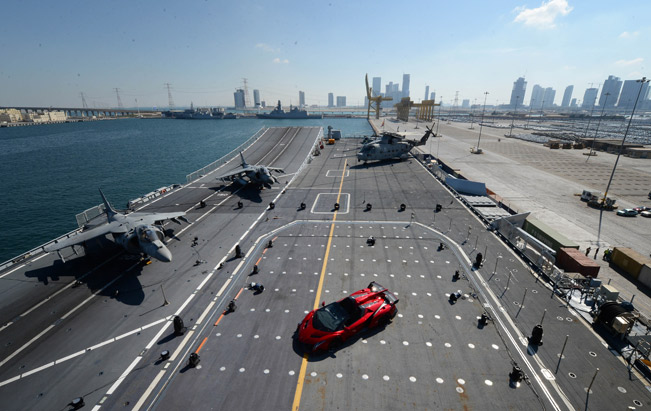 Source: Lamborghini