Land Rover Launches First Hybrid Range Rover Models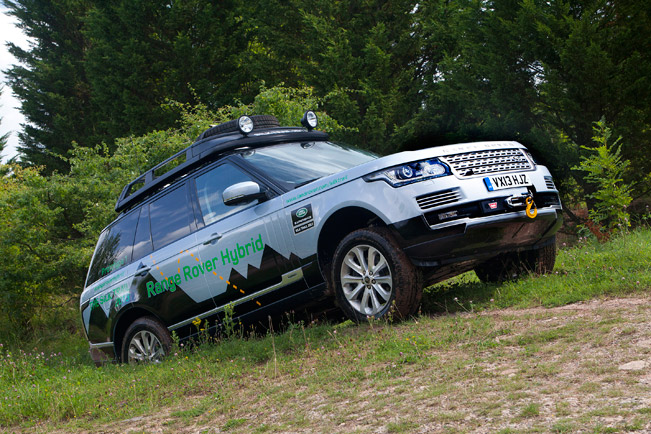 Land Rover has just presented its first-ever hybrid models: Range Rover Hybrid and Range Rover Sport Hybrid. With them, the brand aims to deliver better fuel economy, reduced CO2 emissions, but also to keep the emblematic for the Range Rover capability and performance.
The two all-aluminium models are based on Land Rover's Premium Lightweight Architecture. In addition, they are also equipped with an identical powertrain, thanks to which they will become world's first premium diesel SUV hybrids.
2014 Range Rover Hybrid has a powertrain which includes three driver-selectable modes and combines Land Rover's popular 3-litre SDV6 diesel engine with a 35 kW electric motor. The car is equipped with 8-speed ZF automatic transmission. Furthermore, the hybrid system, which also features lithium ion battery pack, inverter and electric motor weighs less than 120kg.
In fact, the electric motor produces 170 Nm (125 lb-ft) torque and is active when the vehicle is in EV Mode. What is more, it is also used as a generator, harvesting kinetic energy through regenerative braking. This means that it charges the battery when the vehicle is slowing.
When the driver selects the EV mode, the Range Rover Hybrid can travel at speeds of up to 30 mph (48km/h) for a range of up to one mile (1.6 km). Afterwards, the diesel engine restarts. Both the diesel engine and electric motor has a combined output of 340 hp (250 kW) at 4,000 rpm and generate 700 Nm (517 lb-ft) of torque between 1,500-3,000rpm.
Range Rover Sport Hybrid and Sport Hybrid accelerate to 62mph (100km/h) in under seven seconds on their way to a top speed of 135mph (218km/h). The CO2 emissions are estimated at 169g/km, equivalent to 44.1mpg on the combined cycle.
The design of the new models is created according to the new hybrid technology included in them. For instance, the liquid cooled battery pack is mounted beneath the floor of the vehicle in a protective boron-steel cradle. The vehicle however, retains its five-seat capacity and luggage space as well as the full-size spare wheel. Both hybrid Range Rover models also include Land Rover's four-wheel drive system that features Terrain Response 2.
Technical Specifications
| | | |
| --- | --- | --- |
| | Range Rover Hybrid | Range Rover Sport Hybrid |
| Engine type | 3.0 SDV6 HEV | 3.0 SDV6 HEV |
| Power PS/rpm | [email protected] | [email protected] |
| Torque Nm/rpm | [email protected] | [email protected] |
| 0-62mph / 0-100km/h secs | 6.9 | 6.7 |
| Top speed mph (km/h) | 135 (218) | 140 (225) |
| CO2 Combined g/km | 169 | 169 |
| Combined consumption mpg (L/100km) | 44.1 (6.4) | 44.1 (6.4) |
| Weight From… kg | 2394 | 2372 |
Source: Land Rover