Range Rover Hybrid Completes 2013 Silk Trail Expedition [VIDEO]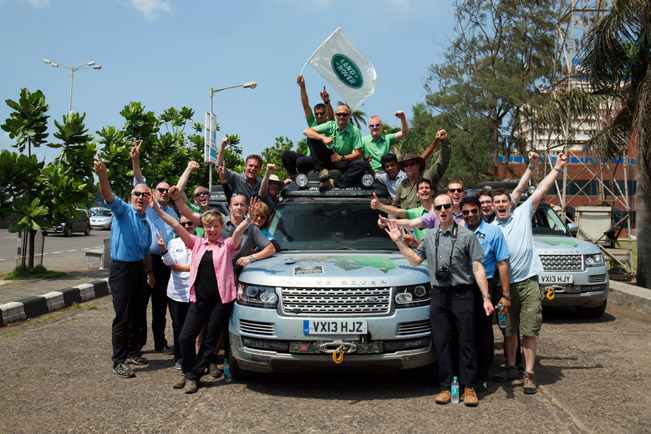 Three Range Rover Diesel Hybrid prototypes have completed their journey from Solihull, UK, to Mumbai, India. They have traversed 13 countries for over 53 days in order to be the first to finish the hybrid expedition named 2013 Silk Trail. This was one of the boldest driving adventures ever pursued by Land Rover.
The first reason for this was that along the route there were numerous hostile conditions such as asphalt roads riddled with vast and deep potholes, dusty desert trails in 43°C heat and miles of mud and gravel tracks and cattle trails. In addition, they had to cross many rivers; the drivers had to survive thin air of extremely high altitudes and the dense and erratic traffic of Chinese and Indian roads.
As a matter of fact, the 2013 Silk Trail Expedition is the last validation test for the Range Rover Hybrid before it goes in production. The exact route the machines had to undergo is the following: Solihull, UK, France, Belgium, Germany, Poland, Ukraine, Russia, Kazakhstan, Uzbekistan, Kyrgyzstan, China (including Tibet), Nepal and India.
What is more, the expedition followed the legendary Silk Road trading routes that first connected Asia with Europe more than 2,500 years ago. Even some of the overnight halts were made in tents at many of the same staging posts visited all those years ago by Silk Road merchants, missionaries and mercenaries.
Another highlight for this expedition is that the Hybrids pioneered a mountainous route never previously completed by a vehicle from outside China – the Xinjiang-Tibet highway. What is specific about it is that it is positioned at heights of over 5,300 metres above sea level.
This means that the Land Rover team had to spend seven consecutive days at altitudes between 11,000 and 17,648 feet (3,350 and 5,379 metres). In fact, at such heights, the levels of oxygen in the air are reduced from the 21 percent found at sea-level to as little as 10 percent and this makes the movement for humans and internal combustion engines more difficult.
Despite these conditions, the Range Rover convoy continued to make good progress, because it benifited from the electric motor's instant torque at 0 rpm. Other rough conditions were the muddy roads that they were literally impassable to other types of vehicle.
Another advantage as a result of this expedition is that the Land Rover development engineers closely monitored the data loggers fitted to each car. In this way they have sent back more than 300 gigabytes of detailed technical records to their engineering team at Gaydon in the UK.
Video Source: YouTube
Source: Land Rover