Range Rover Hybrid Long Wheelbase Debuts In Beijing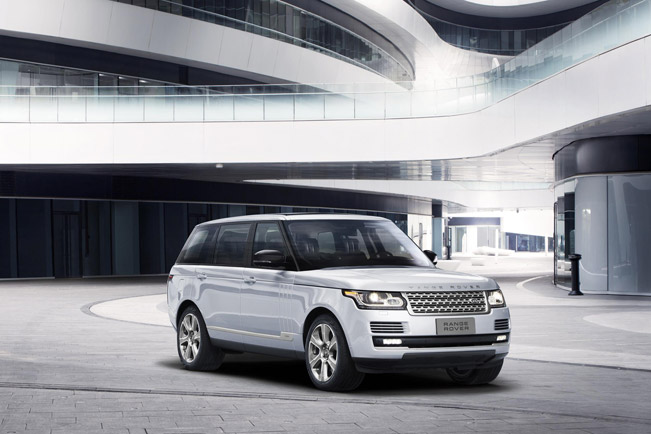 Range Rover Hybrid Long Wheelbase officially debuted at Auto China in Beijing. The Long Wheelbase of the model was introduced last year in Dubai, and now we are seeing the birth of the hybrid version. The derivative brings together two of the most recent innovations in the Range Rover line-up: premium luxury interior space and exceptional fuel and emissions performance. In fact, together with the Range Rover Sport Hybrid, it will be the first diesel hybrid model from any manufacturer to be offered in China.
Range Rover Hybrid powertrain combines Land Rover's 3.0-litre SDV6 diesel engine with a 35 kW electric motor. The power is transmitted onto the road via the eight-speed ZF automatic transmission. The system allows the driver to select from three different drive modes in order to optimize performance or efficiency, thus delivering 169g/km Co2 emissions and 6.4 l/100 km (44.1mpg).
Another advantage of this vehicle is that it offers additional 186 mm of legroom for rear seat passengers. Furthermore, the option of the executive seating package delivers an impressive increase in the rear seat angle of recline to 17 degrees.
The hybrid system utilizes the same Terrain Response system and all-wheel drive technology which we have seen in the petrol and diesel-powered models. The complete system features a lithium ion battery pack, inverter and electric motor, and weighs less than 120kg.
Precisely, the electric motor produces 170 Nm (125 lb-ft) of torque. It also acts as a generator, harvesting kinetic energy through regenerative braking, charging the battery when the vehicle is slowing. In all electric mode, the new Range Rover Hybrid can travel at speeds of up to 30mph (48km/h) for a range of up to one mile (1.6 km) before the diesel engine seamlessly restarts. Combining the output of the diesel engine and electric motor makes a total of 340 hp (250 kW) and 700 Nm (515 lb-ft) of torque between 1,500-3,000 rpm.
Source: Land Rover