2015 Lexus RC F Revealed Ahead Of NAIAS Debut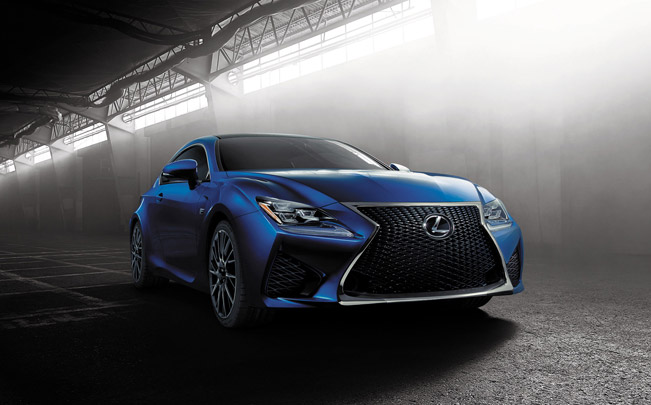 2015 Lexus RC F is here! Since it has been kept in secret for a month already, it is now clear that the "F" model is based on the RC coupe. The latter was revealed at the Tokyo Motor Show last November and now it is time for its more athletic sibling to stand under the lights.
The RC F coupe is styled to support the most powerful V8 performance car ever developed by Lexus. It has wider wheels and tires, an active rear wing, air scoops, cooling ducts and available carbon fiber components.
The front of the RC F is dominated by the signature Lexus spindle grille from the bottom of the hood to the lower lip. It features also a subtle F-pattern on the lower half. The hood is higher than that of the RC because it accommodates the larger V8 engine. This of course also results in more powerful flared profile. Ducts beneath the front bumper, fenders, and strategically-placed aerodynamic stabilizing fins are also present.
At the rear of the front fender air outlets form the shape of an L when they merge with side sill extensions. In addition, stacked trapezoidal quad-outlet tailpipes give more aggressive style to the rear. There can be also seen an active speed-sensitive rear spoiler. The last element that needs to be mentioned here is the wing which helps the RC F maintain traction and stability at higher speeds. The car can be equipped with three variants of 10-spoke 19-inch forged aluminum wheel.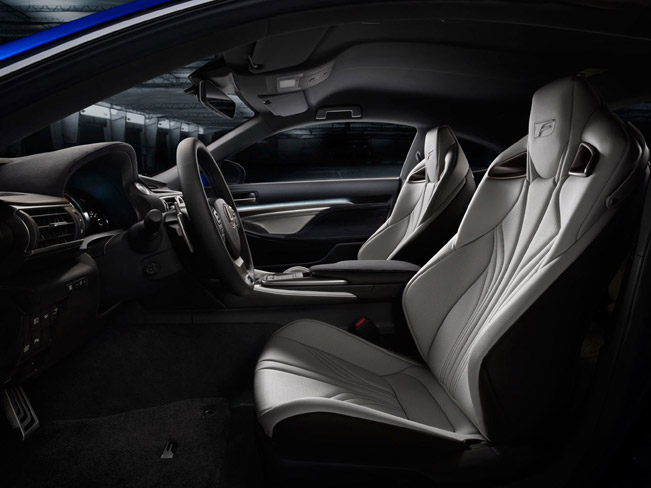 Inside, the car is as striking as outside. Some of the highlights here include the meters, steering wheel, seats, ornamentation and pedals. The instrument panel is dominated by a central meter which changes according to the four selectable driving modes.
The steering-wheel makes a debut in this car, because this is the first Lexus-elliptical cross-section thick-grip steering wheel. It has optimum placement of paddle gear shifts. The seats will be offered in a selection of five leather trims, each with contrasting stitching. The back seats are embossed with F on the headrests.
2015 Lexus RC F will be revealed at a press conference at the 2014 North American International Motor Show on 14th of January.
Source: Lexus