2014 Madza MX-5 Facelift Goes on Sale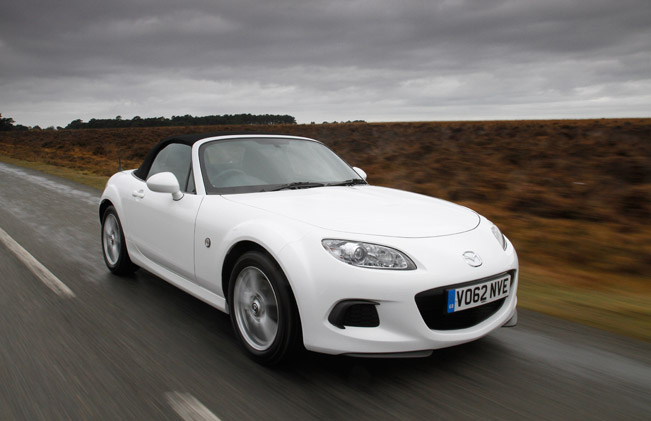 Facelifted 2014 Mazda MX-5 sportscar revealed a week ago will go on sale starting the beginning of next month, introducing its new front fascia, pedestrian-friendly bonnet, satellite navigation system, side airbags, and climate control air-conditioning.
During the work on the new version of the Mazda, the designers were determined to make the revised roadster even better looking and even more exciting to drive. First they've started with the front fascia, which received new aggressive front grille and new bumper design with a bold chin spoiler.
The result is a deeper and wider, but also – enhanced aerodynamics thanks to the reduced drag around the fog lamp and over the front tyres. Furthermore, the new new front-end design additionally improves pedestrian safety.
The new MX-5 is the first Mazda to be equipped with the newly-developed active bonnet system. When it detects a pedestrian, the bonnet instantly 'pops-up' to increase the crumple zone between the bonnet and engine, reducing the severity of pedestrian injuries.
In thee iconic model is also included the Japanese marque's unique 'Jinba Ittai' handling finesse with a rear-wheel drive chassis that offers perfectly balanced handling and pure driving exhilaration. What's more is the modified throttle, which enhances responsiveness and give more linear, nimble acceleration, especially when manoeuvring out of corners.
The vacuum brake booster was also optimized and now delivers better brake return control and front-rear load distribution, particularly when braking into bends.
Next to highlight is the equipment which now adds climate control air-conditioning and glossy dark grey dashboard panel and steering wheel inserts on every model. Optional equipment is also available: auto-dimming interior mirror and alloy pedal set.
Moreover, in terms of exterior the upgraded Mazda MX-5 includes refreshed palette of colours with three new additions: Sparkling Black Mica, Dolphin Grey Mica and Crystal White Pearlescent. Also available are the already familiar True Red Solid, Aluminium Silver Metallic, Copper Red Mica and Stormy Blue Mica.
And to make the driving experience exciting and thrilling, there is a choice of three powertrains: the 126 hp (93 kW) 1.8i MZR mated to a five-speed gearbox, and the 160 hp (118 kW) 2.0i MZR matched to either the smooth-shifting six-speed manual transmission or the 'PowerShift' six-speed sequential paddle-shift transmission that allows manual control or a fully automatic mode.
Facelifted Mazda MX-5 Range has a starting price of £18 495.
Source: Mazda