Mazda MX-5 GT
Mazda has just revealed its Mazda MX-5 GT, the automakers all-new, ultra-light race car which is set to challenge some of the world's most powerful rides from Aston Martin, Porsche, Lotus, and BMW at the Britcar MSA British Endurance Championship 2011, which starts this weekend at Silverstone.
As we already mentioned, the Mazda MX-5 GT is hyper light - just 850kg, thus is capable to accelerate from standstill to 60 mph in only three seconds to a max speed of 160 mph. It has a modified Mazda power unit with 275 horsepower, which is linked to a six speed sequential paddle shift gearbox. On the outside, carbon-made doors and Polycarbonate windows, as well as a Green metallic body finish exclusively emphasizes on the ride's racy look yet contribute for its exceptional weight.
Built by Jota Sport, the MX-5 GT's shell took 400 hours development, but now its strength figures exceed 17 times the FIA requirements.
Graeme Fudge, PR Director, Mazda UK, stated: "The MX-5 production race car's modest power output, bullet proof reliability and nimble handling demonstrated last year how the MX-5 can be competitive against some of the purpose-built Lotus, VW and BMW race cars. With a higher power output combined with the durability, reliability and handling attributes that the MX-5 is renowned for; the MX-5 GT race car will be strong contender against the more powerful race cars in its class."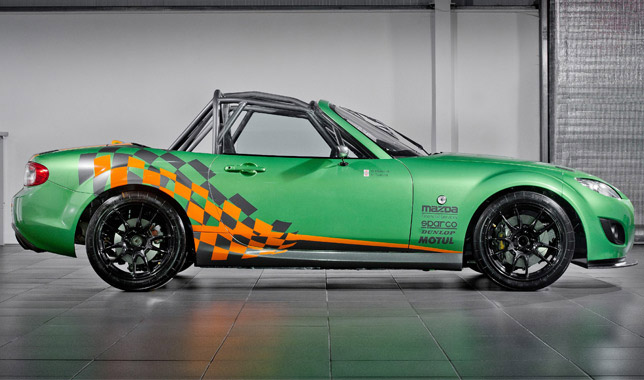 Source: Mazda