Measuring Powers: 2015 Ford Mustang GT vs 2015 Chevrolet Camaro SS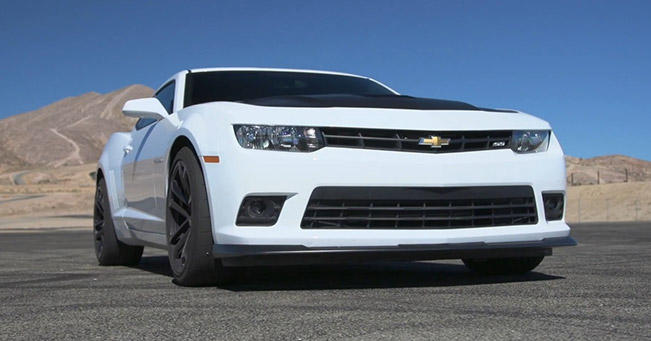 Attention please! Let me present to you the clash of the titans; the battle of the 2015 Muscle Cars; the wrath of engines; the power-measuring between 2015 Chevrolet Camaro SS 1LE and 2015 Ford Mustang GT! This is not a movie. This is the ultimate rivalry and desire for supremacy.
The rivalry between Ford Mustang and Chevrolet Camaro is perhaps older than the Universe. Ok, not that old but slightly older than our plant. Well, maybe I exaggerated a bit too much but the important thing is that you got the point. Nevertheless, with the modern-day enhancements the two vehicles have never been functioning better than now. Both the 2015 Camaro SS and the recent 2015 Mustang GT pull out more than 420 HP and have 6-speed manual transmissions. But which one is the winner of this race? (I'm not going to spoil it for you right away and say it is the 2015 Camaro... Oops. I just did it.)
When you put the Camaro and the Mustang side by side it is probably more than just obvious enough to spot who is going to be the wolf and who is going to be the sheep. Or is it…? Exceeding in almost every feature and characteristics, 2015 Chevrolet Camaro SS is expected to eat up the 2015 GT. Yet, many of the Ford fans still kept their hopes up for the next generation Mustang was introduced with an independent rear suspension setup that would improve the handling and had a little more horsepower than that of the Camaro.
In order to see if the improvements on the Ford Mustang will help it win, Motor Trend set the two cars through the paces to show which would demonstrate better time.
In the video we see Carlos Lago who continues to compare the two cars. The first one to be tested is the Ford Mustang GT. Despite the fact that it loses (not really surprising after all), the muscle car shows some spectacular results too. It is slightly faster than the Camaro – and it covers ¼ miles in 12.8 seconds at 112.2 mph while the Chevy accomplishes its ¼ mile in 12.9 seconds at 110.5 mph. Just like the winner, though, the GT braking performance hits 0-60 mph in 4.4 seconds. As for the figure eight, the Camaro beats its opponent with the final result of 24.5 seconds at 0.87g (avg).
My personal favorite though is the 2015 Chevrolet Camaro. It burns with tight and strong power and it also has really good turning and balance-management at a high speed performance. It is pulling some serious leading characteristics there! Mustang is less track-focused and it lacks the high level of stability that the Chevrolet hits us with. The latter is really kind of what you want and expect out of such car.
Source: Motor Trend Channel