2013 Mercedes-Benz ML 500 4MATIC BlueEFFICIENCY - pricing announced
2013 Mercedes-Benz ML 500 4MATIC BlueEFFICIENCY is the third generation of the ML-Class, equipped with a V8 petrol version. Furthermore, it includes new safety features such as COLLISION PREVENTION ASSIST (CPA)*. The new ML 500 4MATIC BlueEFFICIENCY will be arriving at dealerships in autumn this year.
First, the new turbocharged BlueDIRECT V8 of this Mercedes-Benz SUV model is a direct injection petrol engine. More importantly however, it offers excellent performance along with top-class efficiency. The powerful V8 engine generates 300 kW (408 hp) at 600 Nm of torque and is available at a much lower engine speed of 1600 rpm.
Despite reduced displacement, the high output is achieved thanks to the two exhaust gas turbochargers – one for each bank of cylinders. V8 also includes third-generation direct fuel injection system with spray-guided combustion and piezo injectors combined with multi-spark ignition.
All this results in outstanding fuel economy, which is additionally improved by the comprehensive package of BlueEFFICIENCY measures. For example it includes the ECO start/stop function which comes as standard, the seven-speed 7G-TRONIC PLUS automatic transmission, low-friction axle drives, electric steering, optimised belt drive, on-demand control of the ancillary components.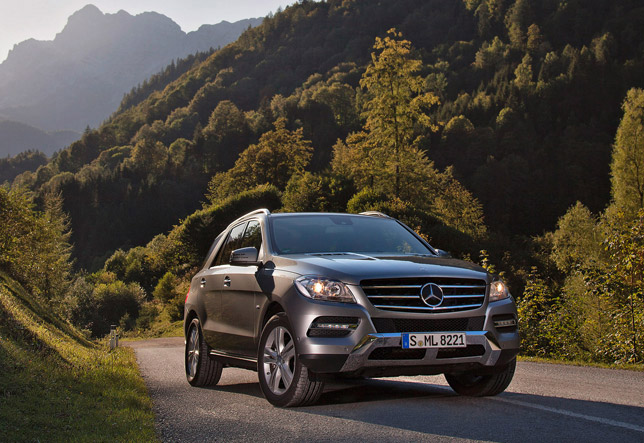 Summary of key data for all ML-Class models:
ML 250 BlueTEC

4MATIC

ML 350 BlueTEC

4MATIC

ML 350

4MATIC BlueEFFICIENCY

ML 500

4MATIC

BlueEFFICIENCY

ML 63

AMG

No. of cylinders/ arrangement
4 in-line
V6
V6
V8
V8
Displacement

cc

2143
2987
3498
4663
5461
Rated output

kW (hp)

150 (204)
190 (258)
225 (306)
300 (408)
386 (525)
Max. torque

Nm

500
620
370
600
700
NEDC combined consumption

l/100 km

g CO2/km

6.0 - 6.5

158 - 170

6.8 - 7.4

179 - 194

8.5 - 8.8

199 - 206

11.0 - 11.5

258 - 269

11.8

276

0-100 km/h     s
9.0
7.4
7.6
5.6
4.8
Top speed  km/h
210
224
235
250*
250*
Emissions standard
EU6
EU6
EU 5
EU 5
EU 5
Furthermore the new ML 500 features a comprehensive package of safety features. Active safety is further enhanced thanks to the COLLISION PREVENTION ASSIST (CPA)* with adaptive Brake Assist as standard.
The Mercedes-Benz runs on the elegant 5-twin-spoke 48.3 cm (19") alloy wheels, included in the ML 500 4MATIC BlueEFFICIENCY delivery package, or on the all-new 5-spoke 53.3 cm (21") alloy wheels from Mercedes-Benz Accessories.
The interior of the vehicle features multicontour seats for driver and front passenger, which of course offer more comfort due to the new massage functions included. In the cockpit can be found the TFT display positioned between the two instrument dials.
The emblematic exterior of the ML can be further enhanced by the AMG Exterior Sports package, which is optional, and includes special body-colored front apron, rear apron and side skirts, in addition to 48.3 cm (19") 5-spoke high-sheen AMG alloy wheels.
The same package improves the outlook of the exterior thanks to the luxurious designo Exclusive package in black, maroon or porcelain. This feature includes seats, instrument display, door centre panels, door arm rests, beltlines and centre console upholstered in nappa leather, in addition to the designo roof lining in black DINAMICA microfibre.
The new ML 500 features ON&OFFROAD package. It has six driving modes, which optimize the driving dynamics and handling safety of the vehicle and deliver optimum drive system control. In particular, the driver can select from one automatic mode, two special off-road modes and three on-road modes using a rotary control in the centre console.
2013 ML-Class models prices:
| | | |
| --- | --- | --- |
| ML 250 BlueTEC 4MATIC | €46,550.00 | €55,394.50 |
| ML 350 BlueTEC 4MATIC | €49,700.00 | €59,143.00 |
| ML 350 4MATIC BlueEFFICIENCY | €48,050.00 | €57,179.50 |
| ML 500 4MATIC BlueEFFICIENCY | €63,050.00 | €75,029.50 |
| ML 63 AMG | €91,500.00 | €108,885.00 |
Source: Mercedes-Benz