2012 Mopar Dodge Charger Redline
The brand new 2012 Dodge Charger Redline is now with more aggressive look and delivers more dynamism in performance. This is due to the 426 HEMI®-powered showcase of new Mopar® performance kits. They will be available later this year. At the event of the 2012 North American International Auto Show, the Dodge Charger Redline vehicle with all three Mopar performance stage kits will make its first appearance.
What Mopar has done to enhance this beautiful vehicle is firstly to include aerodynamic carbon fiber exterior components and interior accents. In details these modifications include a full-width Mopar carbon fiber chin spoiler in order to give the Charger Redline a more aggressive appearance. Matching the Redline Tri-coat paint, the two-piece grille features a body-color painted-grille surround with black signature "crosshair" insert. Large 20 x 8-inch Mopar Black Envy Wheels feature a Pitch Black-painted wheel face with polished accents. In addition Mopar carbon fiber door scoops highlight Dodge Charger Redline's signature body-side scallops and include heritage "R/T" badging (all this only to pay homage to the historic 1970 Charger version). To make the car more powerful there is also a three-piece Mopar carbon fiber rear spoiler. Moreover it also provides an even more dynamic look. To emphase Dodge Charger Redline's fastback silhouette, Mopar made a vinyl roof graphic in matte black. Furthermore the Dodge Charger Redline's cockpit design includes high quality materials and is additionally enhanced with a Mopar aluminum shift bezel and aluminum instrument panel bezel with Redline perimeter accent. Mopar had even taken care for the pedal covers, which are made from stainless steel and feature a rubberized pattern for improved traction.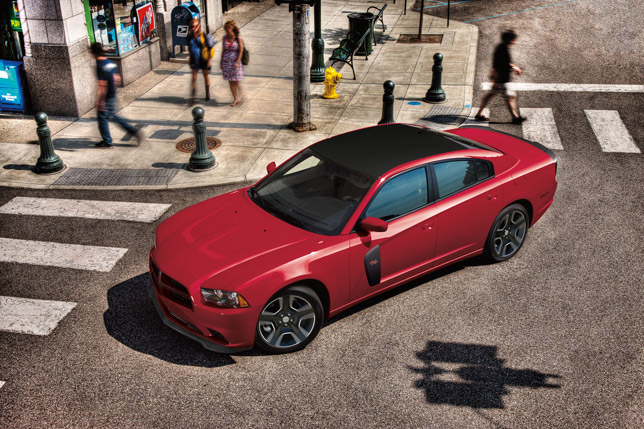 The second improvement by Mopar concerns the bolt-on berformance parts, which deliver improved power, handling and braking. This performance kit allows the Dodge Charger Redline's legendary HEMI® V-8 engine to perform at its optimal level. Furthermore Mopar's cat-back performance exhaust system provides an increase in horsepower. In order provide increased structural stability for improved handling dynamics, under the hood there is a front-tower cross-brace and front tower brace caps.  For ultimate braking capability, high-performance Mopar brake linings are track tested and deliver fade-resistance during hard braking use.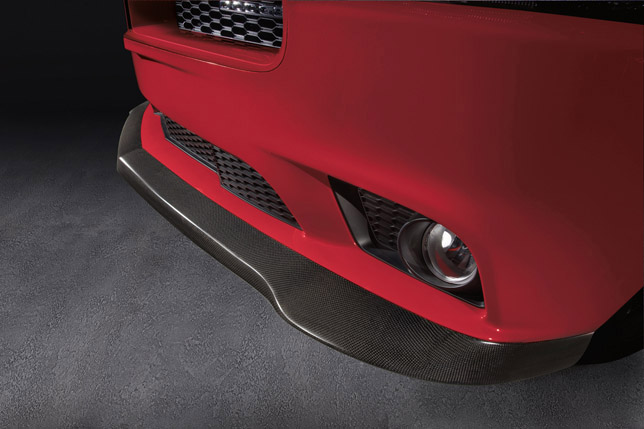 Next Mopar has included its Gen III High Output 426 HEMI V-8 engine, with 590 Horsepower (434 kW) on Tap. With this enhancement the vehicle delivers 220 more horsepower than the 2012 Dodge Charger R/T. With its legendary 426 cubic-inch "Elephant Motor," the Dodge Charger Redline delivers the astonishing 590 horsepower. All this is possible thank to the lightweight aluminum V-8 engine block that shaves more than 100 lbs. from the traditional cast-iron crate version. On the other hand the new Gen III High Output 426 HEMI engine includes a stout, balanced lower reciprocating assembly that features a forged-steel crankshaft with six-bolt mains at 2, 3 and 4, and cross-bolted 4-bolt mains at 1 and 5. H-beam style rods are made from forged steel and coupled to forged 11:1 compression ratio aluminum pistons. In order to provide excellent oil dispersion and to prevent oil aeration by the crankshaft, there is also included a revised windage tray. Moreover the Gen III High Output 426 HEMI engine's valvetrain starts with a more aggressive roller camshaft with .639 intake and .628 exhaust lift and cylinder heads that feature the latest designs for excellent flow characteristics. In addition tie bars are also available, thus helping stabilizing the valvetrain at high engine rpm. At last, in this amazing Dodge Charger Redline's Stage III performance kit are also included Mopar cast-aluminum valve covers and billet fuel rails.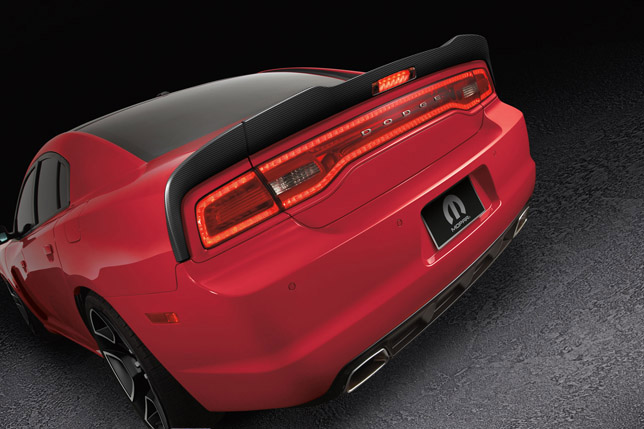 Source: Chrysler