The most beautiful car of all time
What's the most beautiful car of all time? A multi-million pound Ferrari or the curvy Jaguar E-type perhaps? No, it is now officially Citroën's humble DS, the car most famous for saving President De Gaulle from assassination.
That was the verdict when Classic & Sports Car magazine polled a jury of the world's leading car designers to nominate the most gorgeous cars ever. The 20-strong panel ranged from Car designer of the Century Giorgetto Giugiaro – the man behind the Maserati Bora, VW Golf, Fiat Panda and Lotus Esprit – to current Jaguar director of design Ian Callum, and each picked their top three beauties. Although Ferrari secured the most votes as a marque, they were spread across nine different models, leaving the Citroën to scoop the honours as the single most beautiful classic.
The top 10: 1.  Citroën DS 2= Jaguar XK120 2= Ferrari 275GTB 4= Cord 810/812 4= Ferrari 250GT Lusso 4= Ferrari 250GT Short-wheelbase 4= Jaguar E-type 4= Lamborghini Miura 4= Lotus Elan 4= Lotus Elite (1957)
James Elliott, editor of Classic & Sports Car, said: "The Citroën is a benchmark design, but we were still astonished that it came out on top when you look at the sexiness – and values – of some of its rivals. Apart from the Mini, it's by far the most affordable car to get any nominations at all, which probably means it's a great investment!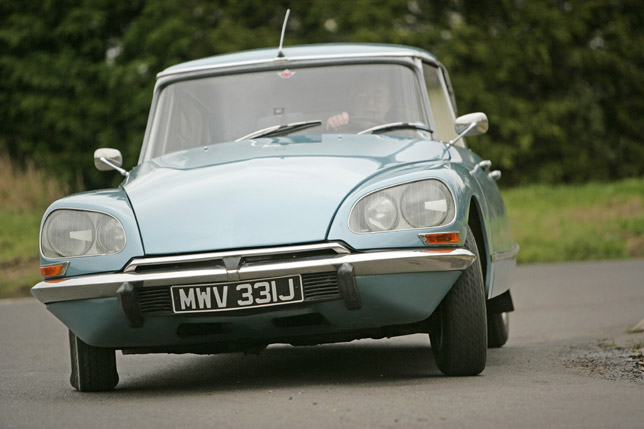 "Petrolheads everywhere are forever arguing about the most beautiful cars and we hope that this will put an end to the debate once and for all, though we suspect that it might just be lighting a rocket under it. I don't think anyone has ever asked this many great designers what their views are, so who better to pick the official winner… even if they all missed my favourite, the Alfa Romeo T33 Stradale?"
"It's great to see the iconic DS getting such recognition amongst such an august group of car designers , and with the amazing news that a new DS range from Citroën will appear over the next few years,  it's clear we have lost none of our styling panache or instinct for innovation," commented Citroën spokesperson Marc Raven on hearing the news. What they said about the Citroën DS Giorgetto Giugiaro: "The only example of a car really conceived 'outside the box'. It is just impossible to imitate."
Leonardo Fioravanti (former Pininfarina design chief and the man behind Ferrari's Daytona, Dino and 308GTB): "A real road car that, at its time and perhaps still now, has represented the 'dream' in its extreme progress."
Peter Stevens (British great responsible for the McLaren F1 and second-generation Lotus Esprit): "I have always considered the fact that this car was first drawn in 1955 to be extraordinary."
Marcello Gandini (Bertone stalwart responsible for Lancia Stratos and Lamborghini Countach among many others): "At the time I think it was complete folly, madness from a business and industrial point of view… but it was a really innovative car in 1955. A few people may have thought of all those beautiful ideas, but it was real bravery to implement all of them in one car."
A bit about the Citroën DS With its name derived from Déesse (French for Goddess), this innovative design was styled by Italian sculptor Flaminio Bertoni and launched in 1955. The futuristic shape was an instant design classic and over the next 20 years more than 1.5 million cars were sold in a range of specifications. But it wasn't just the shape that revolutionised automotive design: the complex self-levelling suspension, plus powered steering, clutch and brakes were otherwordly compared to rival cars of the era.
While regarded today as a technical masterpiece – and a potential nightmare for the home mechanic – it was of pioneering construction for its day with unitary 'tub', bolt on panels and a plastic roof. But the appeal of the DS is as much as a cultural icon as a car with a long list of celebrity owners and fans (Alec Guinness, Peter Cook and Will Self among them), plus regular appearances on film and in design museums and art galleries.
A bit about Classic & Sports Car Founded in 1982, Classic & Sports Car is the UK's market-leading classic car magazine and Britain's third best-selling motoring monthly. The "most beautiful classics" feature coincides with an extensive redesign of the magazine and is accompanied by a free A2 poster featuring Lamborghini Miura and Jaguar E-type, plus the definitive buyers' guide to the Citroën DS.
A bit about the panel of designers As well as choosing their favourite three beauties, the designers also had to nominate the example of their own work that they are most proud of. Here are a few extracts.
On their own designs:
Peter Stevens (McLaren F1): "I always intended that the design should be timeless rather than 'of the minute', and that is something that I would use as a measure of other designs."
Ian Callum (Jaguar XF): "It is the biggest challenge I've faced, but I think we pulled it off. I don't think people appreciate how well proportioned it is, given that it's a five-seater."
Gordon Murray (McLaren F1): "Designed as a road car, but went on to win Le Mans, which in my opinion is more difficult than F1."
John Heffernan (Aston Martin Vantage): "When I borrowed one, it was much appreciated by 'bikers of the Hells Angels persuasion, which I liked."
Patrick Le Quément (Renault Twingo): "Some love it, some hated it. I wrote to the president of Renault and said: 'I think you have to vote for instinctive design rather than extinctive marketing.' He wrote back: 'I agree.'"
And on other peoples' cars:
Steve Crijns of Lotus on the Ford GT40: "It's so sexy and has so much presence without really being aggressive."
Paul Bracq, former head of design for both Mercedes and BMW, on the Aston Martin DB9: "It's more beautiful than the current Ferraris. I don't understand modern Ferrari design: the new California looks like a big VW Karmann-Ghia."
Julian Thomson of Jaguar on the Lamborghini Gallardo: "I love the proportions… It's a tiny modern interpretation of a supercar: things like the Bugatti Veyron are totally irrelevant to me."
Martin Smith, executive design director of Ford of Europe on the Lamborghini Countach: "It was like a spaceship, something totally new combining smooth curves with geometric forms. I remember thinking 'I'll never be able to do something as good as that!'"
Ian Callum, Jaguar director of design, on the Ferrari 250GT Short-wheelbase: "A blend of beauty and aggression… I just drool over them, and I can draw them with my eyes closed."
Marcello Gandini on the Cord 810/812: "It was an impressive design for the 1930s, with solutions that could be seen in cars of 20 years later."
Tom Tjaarda, former head of Ghia's studios, on the Jaguar E-type: "A gorgeous car. It looks narrow, like a woman in high heels. It doesn't have the stance that cars have today."
The jury Adams, Dennis Axe, Roy Bracq, Paul Callum, Ian Carr, Russell Crijns, Steve Fioravanti, Leonardo Gandini, Marcello Giugiaro, Giorgetto Heffernan, John Karen, Tom Le Quément, Patrick Martin, Paulo Murray, Gordon Okuyama, Ken Smith, Martin Stevens, Peter Thomson, Julian Tjaarda, Tom Winterbottom, Oliver
All the cars that received votes Alfa Romeo Canguro Aston Martin DB9 Audi A6 Bentley Continental GT Bentley R-Type Continental Bertone BAT 5 Bertone Marzal BMW 328 Mille Miglia Bugatti T41 Royale Coupé Napoleon Bugatti T57SC Atlantic Buick Riviera (1963-'65) "Cadzilla" Citroën ID/DS Cord 810/812 Delage D8-120S Ferrari 166 Barchetta Ferrari 250GT Lusso Ferrari 250GT swb Ferrari 250GTO Ferrari 275GTB Ferrari 330 P3/4 Ferrari Dino 206S Ferrari Dino 246GT Ferrari P6 Ford GT40 Hispano-Suiza H6 (Tulip Wood) Jaguar E-type Jaguar XJ6 S1 Jaguar XK120 Jaguar XKSS Lagonda Rapide Lamborghini Countach Lamborghini Gallardo Lamborghini Miura Lancia Stratos Lincoln Continental (1961) Lotus Elan +2 Lotus Elan S3 Lotus Elite (1957) Maserati Boomerang Maserati Khamsin Mercedes-Benz 500K Mercedes-Benz Gullwing 300SL Mini Pagaso Z102 'Thrill' Phantom Corsair Triumph TR4