Mostro Di-Potenza SF22 - 2000HP and 2000Nm
MOSTRO DI-POTENZA Sf22 is based on Lamborghini Indomable Concept created by Design 4 Motion. This name comes from the design influence of the F22 fighter jet, and is incorporated in the car. SF stands for Street Fighter and only 50 of these cars will be produced.
"We knew that entering a market as a new supercar company has become a rarely successful trend. We hope to make our niche by offering the customers something they could never imagine," commented Anthony Crudup, Chief Executive Officer, 215 Racing/ Mostro Di-Potenza.
The car is powered by a brutal 572 cubic inches GM Engine with two turbochargers and as you expect, the power is just over 2000PS as well as the torque. The hyper car also has a 6 speed billet sequential transmission, a Carbon fiber/ Kevlar blend composite body, a full touch screen cockpit , Airspeed adjustable intercoolers and wing/speed brake.
"We think it's time for the Bugatti Veyron to pass the top speed production car crown to us. They have held it for 10 years! But that is not our primary focus, we want to give the owner something that can only come from Mostro and I think we nailed it with this design. Also 70% of all our vendors are American Companies and we pride ourselves on keeping our fingers on the pulse of the newest and most innovative automotive technology the industry has to offer," finished A. Crudup.
The amazing news is that the car will actually go in production in the Philadelphia, PA area, at a production rate of 2 per month. It is also expected to hit the market in mid- 2012. We can't wait to see that!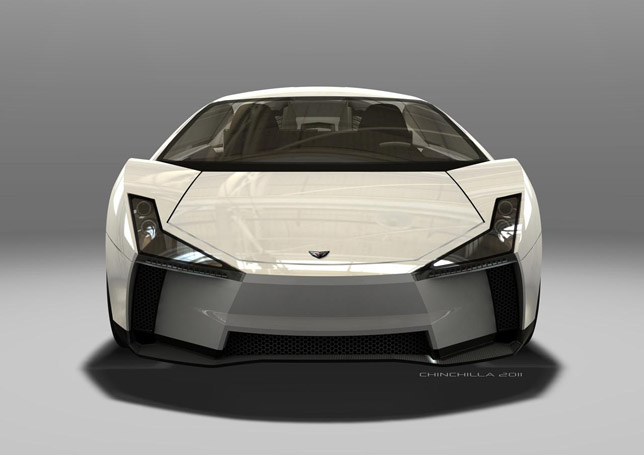 2012 Mostro Di-Potenza SF22 Technical Data:
Engine Location Mid
Drive type Rear wheel
Body/Chasiss Carbon-fiber/Kevlar monocoque
Production Years 2012-
Weight 3000 lbs | kg
Performance (est.)
0 to 60 2.5
1/4 mile 9.5 sec
Top Speed 265 mph |
Engine
Engine Configuration V
Cylinders 8
Engine Dry Sump Lubrication
Aspiration/Induction Twin-Turbo
Displacement 9.4 L
Horsepower 2000
Torque 2000
Fuel Feed Fuel Injected
Standard Transmission
Dimensions
Fuel Capacity 20 Gallons Primery | 8 Gallons Secondary
Seating Capacity 2
Doors 2
Exterior
Length 4460mm
Width 1905mm
Height 1230mm
Wheelbase 2650mm
Wheels
Front 235/35R20
Rear 305/30R20
Source: mostrodi-potenza.com via autoblog.com