New Guinness World Record: Raminator is the Fastest Monster Truck [VIDEO]

Ram Truck Brand is America's fastest growing truck company which broke the speed record for monster trucks. This record was set at Circuit of the America's in Austin, Texas. The vehicle involved is the Raminator. This is a monster truck that is sponsored by the Ram Truck brand and that has now received the accolade "Fastest Speed for a Monster Truck".
The vehicle has hit the record speed of 99.10 miles per hour. The person behind the wheel of this "monster" is Mark Hall and he has secured the Guinness World Records title by simply breaking the previous record of 96.8 mph.
Raminator has also received several other accolades. It has been named "Truck of the Year" by Monster Truck Racing Association (MTRA) for the eight time in a row. What is more, the driver Mark Hall has been dubbed by the same organization "Driver of the Year".
This actually happens for ninth time since 1996. At last, the MTRA has named the Crew Chief Tim Hall "Mechanic of the Year" five times since 2006. Circuit of The Americas is where the record was achieved. It is a multi-purpose facility and 3.4 mile race track which is situated on 1000-acre site in southeast Austin.
Ram-sponsored monster truck lineup features the 2014 Monster Truck Nationals Champion Raminator and Rammunition. This year Mopar also introduced Mopar Muscle vehicle. However, the line-up of monster trucks are owned and operated by the Hall Brothers Racing Team.
Watch how the Raminator sets the new Guinness World Record for being the fastest monster truck in the video below.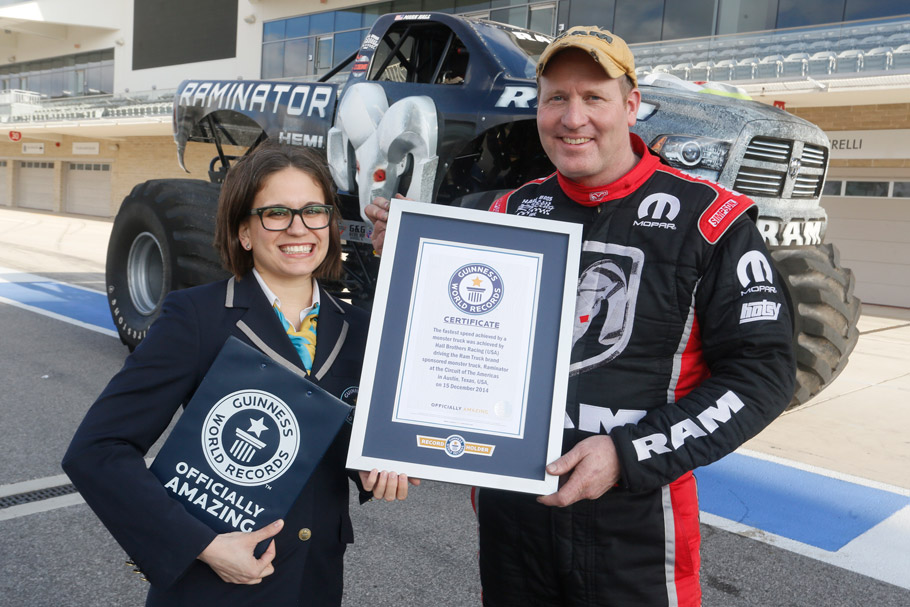 Source:  Ram Truck Brand