2013 Nissan Latio - Specifications Announced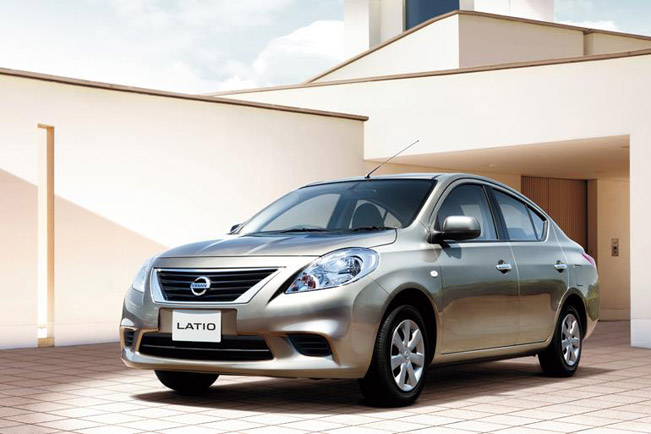 2013 Nissan Latio has just been launched and is already on sale around the world. The new Nissan global sedan is characterized by environmentally-friendly features, a high-quality exterior and roomy interior.
Latio is going to offer its customers a high quality exterior, where an imposing horizontal side view and front styling with large headlights and grille are visible and contributing towards vehicle's strong presence.
In terms of interior, this Nissan model offers great cabin spaciousness and comfort. Rear seat passenger comfort for instance is further enhanced by the ample knee room and wide field of vision. In addition, the trunk capacity is improved through the use of uniquely shaped trim, resulting in luggage space of 490L.
Nissan Latio is also offering a best-in-class fuel economy of 22.6 km/L. This is achieved in all the grades which are equipped with HR12DE engine and an Idling Stop System, with XTRONIC CVT.
The HR12DE engine delivers outstanding acceleration performance in city driving. It also contributes to the enhanced fuel efficiency. In fact, the new Latio with HR12DE engine is one of Nissan's PURE DRIVE models.
2013 Nissan Latio Specifications:
Exterior design:
Sculptured body with a finely developed cross-section, like athlete's muscles
Spacious interior cabin and horizontal yet flowing side view
Sporty front styling, as if the vehicle is staring straight ahead
A total of six available exterior colors, including Titanium Grey (TM) (TM stands for Titanium Metallic)
Interior design:
Functionally-arranged switches and controls, with silver-colored finishers (standard on X, G)
Surprisingly spacious rear seat space
Premium-feel Fine Vision Meter with attractive illumination (standard on X, G)
Engine and transmission:
All grades equipped with 1.2L HR12DE engine with an Idling Stop System
XTRONIC CVT adopted in all grades
Packaging:
One-class-above spacious interior room is achieved by minimizing mechanical space, including optimization of size and layout of the radiator and fuel tank and locating the accelerator pedal farther forward
Comfortable rear seat space is provided, with spacious knee room and large center armrest (rear center armrest is standard on G)
Short front overhang and engine hood that gives great visibility, helping reduce "invisible" areas for drivers as much as possible by making it easier to see where the vehicle's front end is
With large rear window and inventive rear pillar shape, visibility when parking a car in a garage or changing lanes is improved
Brighter headlights, using smaller reflectors, cover a longer distance so that road shoulders are easier to see
Simply designed luggage space opening improves ease of loading luggage. Luggage space capacity is 490 liters – capable of storing four 9-inch golf bags
Aerodynamic performance and weight reduction:
Design that reduces air resistance (coefficient of drag of 0.31) is adopted by optimizing shapes of the front bumper, front pillar, side view mirrors and underbody, as well as making a spoiler-shape trunk lid
Weight is reduced by a total of approximately 70kg compared to the previous model by detailed attention to the refinement of shapes and structures, including engine weight reduction and a change in suspension and exhaust parts
Key Safety and Environmental Technologies:
Multi-reflector halogen headlights (manual control) that help optimize light distribution
Electric retractable remote control body-colored door mirrors
RearView Monitor (available only on vehicles equipped with car navigation system - provided as a dealer option)
High Mount Stop Lamp
VDC (Vehicle Dynamics Control [TCS functionality included]) (standard on G, factory-installed option on X, S and B)
ABS (Anti-lock Braking System) + Brake Assist
Front ventilated disc brakes
High-strength body construction (Zone Body)
SRS air bag system for driver and front passenger
SRS curtain air bag system (factory-installed option on G, X)
Load limiter equipped pretensioner seatbelts for front seats
Emergency Locking Retractor (ELR) 3-point seatbelts for all seats
Mileage display function
Achieves "10% improvement in fuel economy over 2015 standards" in all grades
Achieves SU-LEV certification by emitting 75% fewer exhaust emissions than 2005 standards in all grades
Reduces interior volatile organic compounds (VOC)
Source: Nissan