Nissan Leaf - The World's Cleanest Self-Washing Car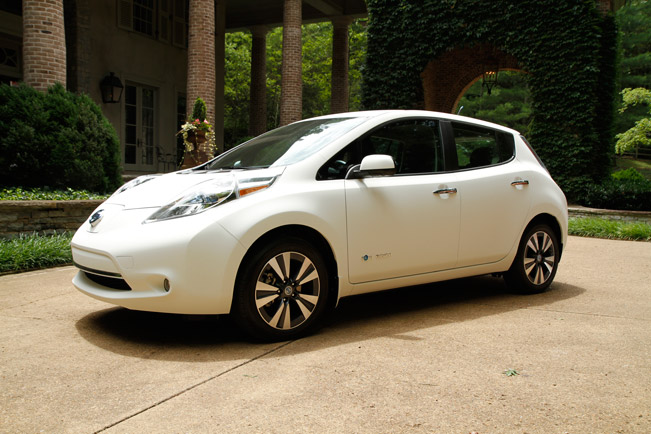 The 2015 new zero emission hatchback Nissan Leaf was crowned as a cleanest car in the world. Nissan introduced an innovative paint technology that repels mud, water, oil and everyday dirt.
Nissan Leaf's exterior was treated with a specially engineered superhydrophobic and oleophobic paint, that repels every dirt by creating a protective layer of air between paint and environment. Rain, mud and oil beads are wiped out from the car, leaving the electric machine clean.
The special paint is called Ultra-Ever Dry and it was developed by Ultra Tech International. It's creators say that Nissan is one of the first automakers to embrace the idea, when the project was just an experiment.
"No matter what the road throws at this LEAF, its Ultra-Ever Dry® exterior coating will throw right back,"  commented the Ultra Tech International Inc. Chef Executive Officer Mark Shaw. He presented the benefits of the superhydrophobic technology and how it creates an "umbrella of air".
"The 100 percent electric LEAF provides the perfect canvas for this new, advanced paint technology," commented  Pierre Loing, vice president, Product Planning, Nissan North America, Inc.
"This is one LEAF that never has to stop at gas stations – not even for a car wash," he added.
The full electric Nissan Leaf is available for 2015 in three trim levels: LEAF S, SV and SL, along with options packages including advanced systems such as Around View Monitor and seven-speaker Bose energy-efficient audio and Hands-Free Text Messaging Assistant.
Furthermore the Leaf  can be charged up to 80 percent of its full capacity in just 30 minutes when plugged into a quick charge port and using a fast charger.  Charging at home through a standard 240V socket is calculated roughly to take less than five hours with the 6.6 kW onboard charger.
Source : Nissan