Nissan March Nismo Concept
Nissan Motor Co. has just revealed the brand new March Nismo Concept at Tokyo Auto Salon 2012. This is the third premium sports compact vehicle released by Nismo, following on the Juke Nismo Concept and the LEAF Nismo Concept. The car is based on Nissan March and features the exclusive Nismo parts. The result is March Nismo Concept which is an extraordinary and excellent expression of the combination of a premium sports compact car and practical but exciting driving performance.
First of all the exterior of the concept includes a lower stance and bolder styling thanks to a modified front grille design. In addition there are also featured efficiency-enhancing aeroparts which were developed as part of Nismo's racing technology. Moreover, the door mirror design has been tailored, and a rear lip spoiler added, to further enhance the car's aerodynamic performance. What about the interior: Nismo designers have created purpose-designed seats. Additionally the steering wheel has been adapted to aid smooth interaction between the driver and the car. The March Nismo Concept comes with pearl white paint finish with red highlights, and the signature Nismo colors for performance-focused premium sports models. The vehicle is also fitted with several of Nismo's vaunted racing technologies. For instance, such are the high-performance suspension and large-diameter lightweight wheels, thank to which the March Nismo Concept will deliver superior handling and stability that adds to the pleasure of sporty driving.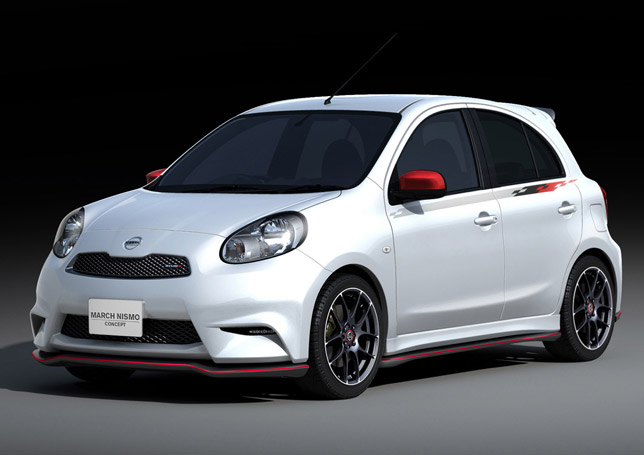 Source: Nissan