2014 Nissan NV Passenger And Cargo Van Go On Sale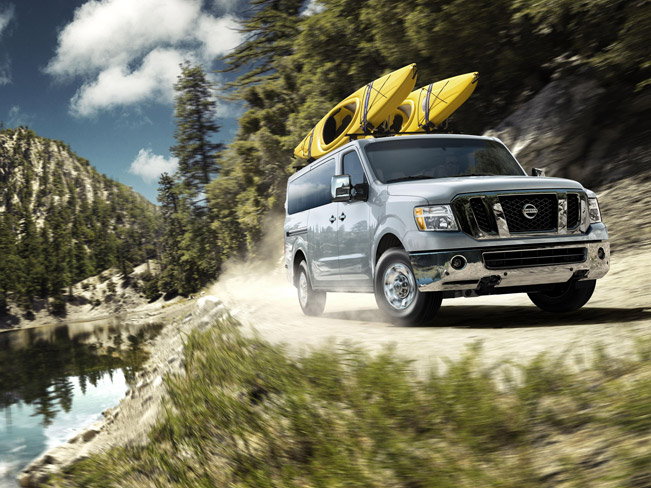 2014 Nissan NV Cargo Van and 2014 Nissan NV Passenger Van are both going on sale around the United States, specifically prepared for the new model year and offering convenience. The new NV Cargo will be offered in three models: NV1500, NV2500 HD and NV3500 HD. In addition to this the vehicle will have two options for roof configurations - namely, Standard Roof and High Roof.
For this vehicle Nissan offers two powerful and at the same time efficient engines, which power the rear-wheels: the 4.0-liter V6 and 5.6-liter V8 one. Both are coupled with a standard 5-speed automatic transmission.
What is new for the MY2014 here? Well, the brand has prepared enhancements only for S and SV trim levels. In addition, there are also available optional equipment packages. All 5.6-liter V8 vehicles now have the former Tow Package content as standard equipment.
Next, the NV Passenger vehicle is a 4-row/12-passenger Van which is offered in three well-equipped models: NV3500 HD S, NV3500 HD SV and NV3500 HD SL. All of them come equipped with a V8 engine only again mated as a standard to a 5-speed automatic transmission.
In terms of safety, 2014 NV Passenger is equipped with eight standard air bags (including roof-mounted), curtain side-impact supplemental air bags with rollover sensor for 2nd through 4th row outboard occupant head protection and standard head restraints and integrated seat belts for all rear seating positions. It is interesting that the model offers 324 seating configurations and a total of six independent rear seats.
The available technology offered here features 5.0-inch touch-screen navigation system, AM/FM/CD/MP3 and Aux-In, SiriusXM Satellite Radio with NavTraffic, USB input, Bluetooth Hands-free Phone System and RearView Monitor.
2014 Nissan NV Cargo Standard Roof models pricing:
| | |
| --- | --- |
| Model/Roof/Engine | |
| NV 1500 Standard Roof S V6 | $25,670 USD |
| NV 1500 Standard Roof SV V6 | $26,660 USD |
| NV 2500 Standard Roof S V6 | $26,670 USD |
| NV 2500 Standard Roof SV V6 | $27,660 USD |
| NV 2500 Standard Roof S V8 | $27,870 USD |
| NV 2500 Standard Roof SV V8 | $28,860 USD |
| NV 3500 Standard Roof S V8 | $29,570 USD |
| NV 3500 Standard Roof SV V8 | $30,560 USD |
2014 Nissan NV Cargo High Roof models:
| | |
| --- | --- |
| Model/Roof/Engine | |
| NV 2500 High Roof S V6 | $29,220 USD |
| NV 2500 High Roof SV V6 | $30,210 USD |
| NV 2500 High Roof S V8 | $30,420 USD |
| NV 2500 High Roof SV V8 | $31,410 USD |
| NV 3500 High Roof S V8 | $32,120 USD |
| NV 3500 High Roof SV V8 | $33,110 USD |
2014 Nissan NV Passenger Van:
| | |
| --- | --- |
| Model/Engine | |
| NVP 3500 S / 4.0-liter V6 | $32,240 USD |
| NVP 3500 SV / 4.0-liter V6 | $34,440 USD |
| NVP 3500 S / 5.6-liter V8 | $33,440 USD |
| NVP 3500 SV / 5.6-liter V8 | $35,640 USD |
| NVP 3500 SL / 5.6-liter V8 | $38,240 USD |
Source: Nissan