Nissan to Pilot Intelligent Transport System Model
Nissan Motor Co., Ltd. announced today it will initiate a large-scale community-based test of its Intelligent Transport System (ITS), integrating cellular communications with vehicle telematics to help prevent pedestrian-related accidents. The pilot project will be conducted in Atsugi, Kanagawa Prefecture for a two-month period from November 1 to December 27.
This represents the first and largest such experiment conducted of its kind, involving 500 pedestrians and 200 drivers, and in collaboration with NTT DoCoMo Inc, the largest mobile network operator in Japan. Participants will use a special cellular phone that is compatible to the Nissan navigation system on-board test vehicles, and simply go about their regular daily routines, commuting within the neighborhood.
Nissan first began the basic test of the system in April 2007. By conducting a large-scaled community-based trial with real-world data-tracking, Nissan is moving beyond the initial basic testing towards a commercially-viable system.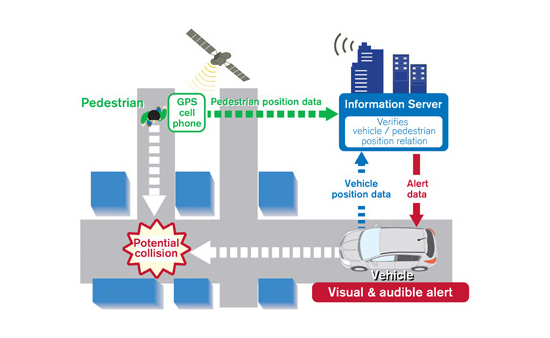 How the system works As a vehicle is approaching a residential city area where many blind intersections exist, the driver can be alerted of a pedestrian hidden around the corner, by voice message and screen display via the navigation system. This is possible as the information server detects data transmitted via GPS (Global Positioning System) to the cellular phone carried by the pedestrian and sends it to the vehicle navigation system, which then triggers the alert. The system assists the driver to take precautionary measures and drive more carefully, which can help to reduce pedestrian-vehicle collisions.
Scope of the pilot project Period: November 1 to December 27 Venue: Tobio, Miharuno and Matsukagedai in Atsugi, Kanagawa Prefecture Sample: 500 pedestrians, 200 drivers
The pilot aims to achieve two objectives:
1) Verification of the effectiveness of the system to support safer driving Nissan will monitor the changes in driver-behavior, such as the response time and deceleration after the alert, for quantitative analysis.
2) Optimization of data-processing logic Nissan will test the data-processing logic, based on a sophisticated software program, which can determine a pedestrian on the street, by identifying the data sent from the cellular phone carried by the pedestrian and calculating the speed of the moving-target.
Statistics*1 have shown that 30% of fatal accidents involve pedestrians. Nissan's safety vision is to halve the number of accidents involving Nissan vehicles resulting in fatality or serious injury by 2015 compared to 1995.