OXIGIN Ford F100 Show Car is Hell of a Truck! And Here is Why

OXIGIN Ford F100 Show Car is one of the rarest examples of truly unique vehicle! With its strange looks, almost 60 years of history and unique tuning equipment, this truck immediately stands out. And we are sure no one can argue with that, right? Well, we must also admit that OXIGIN team has done a very good job by choosing it as its ambassador show car. Who doesn't want to look up closely this one-off F100!
Exterior Rust
As a basis the tuning experts have chosen the F100. This is an American Ford Panel Truck from 1956 that has a lot of history to tell. This is visible through the body of this post-war truck, which features extremely rusty exterior. Of course, this effect was done on purpose with the single aim to catch the attention of everyone.
SEE ALSO: ROUSH Performance Proudly Introduces ROUSH F-150 
The next thing that grabs the eye is company's logo which is finished in orange flames and was emblazoned on the sides of the truck, creating a contrasting glossy orange effect. The same technique was applied to the door mirrors for more harmonious appearance.
Wheels & Rims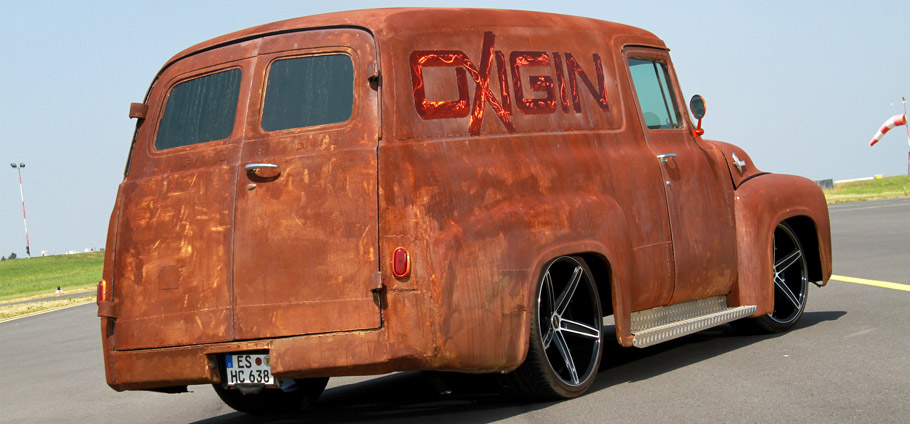 When it comes to alloys OXIGIN brand is one to trust. Here, the F100 truck was fitted with OX18 concave-wheels finished in Black Full Polish. They come in 9x21-inch ET18 and 11.5x21-inch ET32 sizes front and rear respectively and are coupled with 245/35ZR21 and 325/25ZR21 Pirelli P Zero rubbers.
But the unique posture of the truck was achieved via lowered suspension and 50 and 60 mm spacers. They literally push the wheels right to the edges of the big arches, giving the Ford F100 one-off presence.
Louder Soundtrack for the Engine
Under the hood there is a 4.2 litre V8 motor, which has been improved… a little bit. Edelbrock carburetor was added to enhance the sound of the engine. This carburetor breathes through a sports air filter and a custom exhaust, making everyone know that OXIGIN's F100 is in the vicinity.
What's Inside?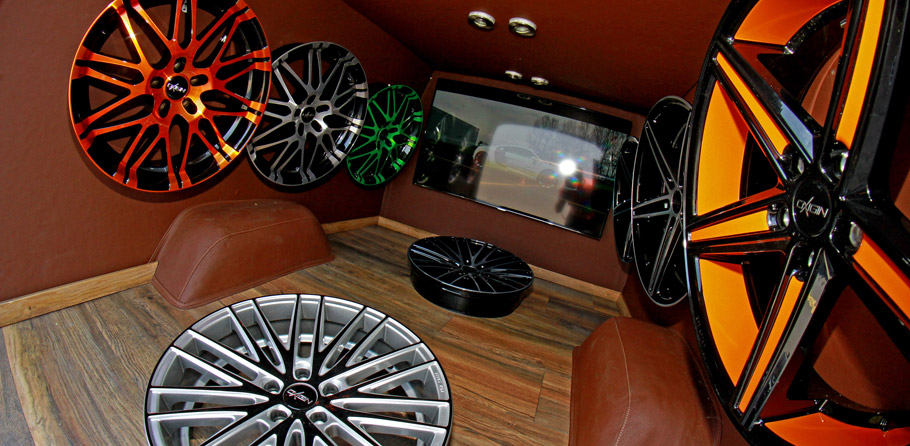 But the good things about this Ford do not end here! If you open its rear doors and take a look inside, then you will see something unexpected. Almost like a room, the cargo space was given a wooden panelled floor, a large flat screen monitor which displays company's latest video clips and e examples of some colorful OXIGIN wheel designs fixed to the walls and floor. In other words the cargo space has become a media centre.
OXIGIN Ford F100 Show Car is a rare example of how a show car can represents a one-off mix between past and present. Great job tuners!
Source: OXIGIN Leichtmetallräder