PEUGEOT 3008 GT: was this an actual required addition to the lineup?

PEUGEOT team unveils the most dynamic version of the recently showcased 3008 SUV: the GT. Looking tight and confident, the GT bad boy aims to deliver pleasure of driving, comfort and of course, some enhanced sporty spirit. An honestly, with the 2.0-liter BlueHD power unit and EAT6 transmission, there's a chance for us to love this vehicle.
In terms of exterior appearance, this one shows some clean and modern lines, that further refine the characteristics of a SUV. The elegant profile incorporates some neat stainless steel components, while the proportions give it some lower and more dynamic expression. And all this is topped with exclusive 18-inch matt Haria alloys.
The rear also contributes to that muscular stance with the GT badging, double chrome exhaust pipes and the overall elegant and sporty stance.
Honestly, we do like the exterior styling of the 2008 GT. If it didn't come with these sort of ugly front headlights and overall funny-looking face, but hey, who cares? It is a sporty version of a sport utility  vehicle. Maybe that was PEUGEOT's idea. A sporty, sporty car. Nice.
Interior styling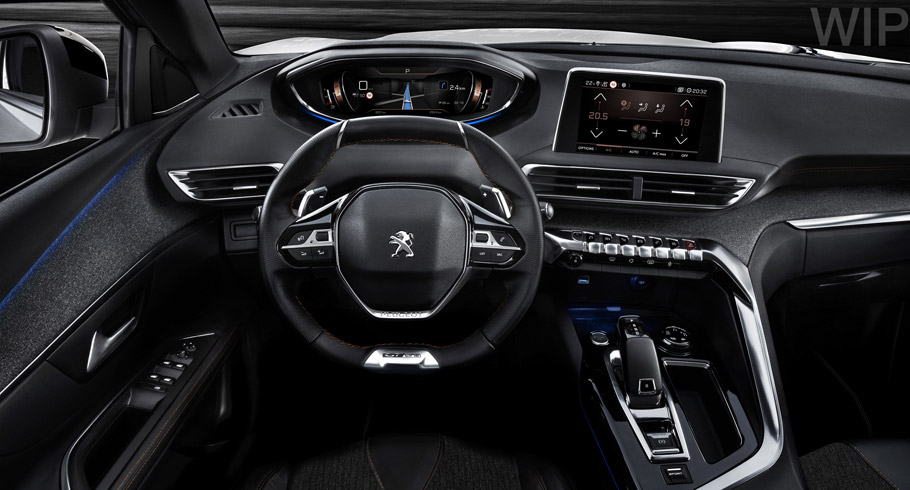 Of course, the 3008 GT comes with the latest PEUGEOT i-Cockpit feature along with its elegant dashboard.  There is a large 12.3-inch digital instrument panel and a 8.0-inch capacitive touch screen. Long story short, as any other contemporary vehicle, this one is also fraught with tons of technology gadgets. The question which one is useful and which one is not remains.
Apart from the gadgets, the cockpit offers fine Aikinite copper double-topstitching on the dashboard, door trims and central armrest. This mellow color scheme is continued on the virtual dials and can be seen everywhere in the cabin.
SEE ALSO: PEUGEOT promotes confidence with new ad campaign. Check it out! [w/video]
In terms of standard equipment, buyers will be granted with 3D satellite navigation with 3 year subscription to TomTom Live updates, Active Blind Spot Detection, Lane Keeping Assistance system, Driver Attention Alert and PEUGEOT's Smartbeam Assistance.
Performance and drivetrain system

Offered with a highly-efficient 2.0-liter BlueHDi power unit, paired to a 6-speed automatic gearbox, the SUV will try to deliver some smooth, yet agile driving experience, while the Adaptive Cruise Control and the Start and Stop function will not only guard and lead the driver, but will show how PEUGEOT team tries to please its customers.
So, how do you find the new PEUGEOT SUV? Write down in the comment section!
Source: PEUGEOT