2012 Peugeot 208 Ice Velvet
2012 Peugeot 208 Ice Velvet is the new limited edition form the brand which has the exclusive paint finish and a strong personality. Only 650 cars of the edition will be released across 18 European countries. 208 Ice Velvet delivers a great driving experience of controlling a unique 3 door vehicle. Moreover if you are interested in purchasing it, you can do it on the Brand's website, starting from today.
What is so special about this limited edition is that it has been with satin paint finish, thank to which the vehicle got its name: 208 Ice Velvet. Moreover it is also characterized by its abundant level of equipment that underlines both its sensual and technological appearance. Innovative, with a fine mix of technology and sensuality, the Ice Velvet paint finish is sublime with its silky sparkle and it sensual appearance. You can only win with such car, and what you'll get is lightness and agility, sensuality and new inventive style of this paint finish. This paint marries naturally with the chrome detail on the bodywork (radiator grill, fog lights, panoramic glass roof and rear view mirrors in dark chrome; exhaust pipe and window surrounds in bright chrome) and with the 17'' 'Technical Grey' alloy wheels as with the innovative and luminous signature that re-invents the feline look of the Brand. Even more the distinctive allure of 208 Ice Velvet is enhanced by the rich specification of its technological equipment: large touch screen, satellite navigation, directional static lights, front lights with LED signature and DRL function, automatic air conditioning, panoramic glass roof with blue guide lights, sports seats, new generation Stop&Start on the Diesel 1.6 e-HDi engine. Moreover the interior is fitted with a Peugeot Techno TEP trim and high quality stitching, a steering wheel made from the finest quality leather. Furthermore 208 Ice Velvet is equipped with either a petrol 1.6 VTi 120 engine, linked to a manual 5 speed gearbox or with a Diesel 1.6 e-HDi 115 engine, linked to a manual 6 speed gearbox with a satin chrome gear knob.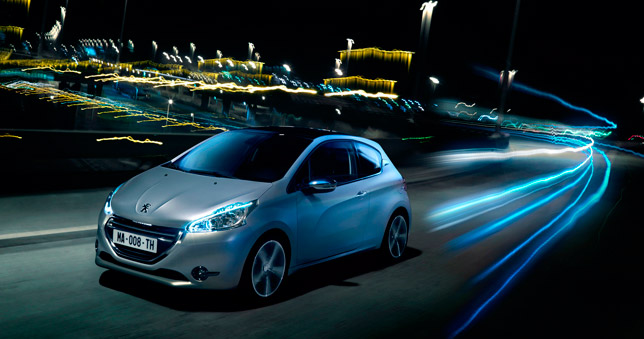 The 208 Ice Velvet will be offered at the price of 23 500 € in France.
Source: Peugeot