Peugeot 208 Type R5 Teased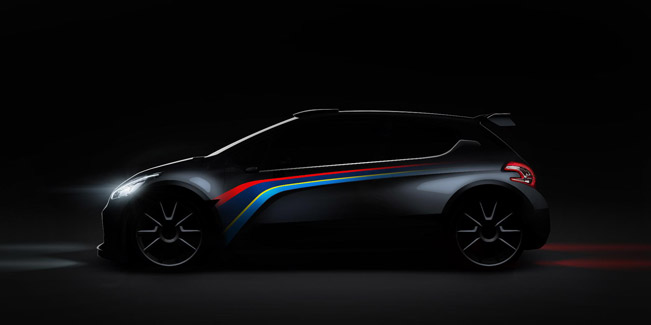 Peugeot 208 Type R5 is a true "competition wildcat". It will make its world debut in Paris later this month, which means that we have to be satisfied with the teaser image that has just leaked.
In fact the 208 Type R5 is set to compete in its first rallies and then go on sale in the second half of the next year. The new Peugeot will benefit from all the expertise and experience of Peugeot Sport.
It has been announced already that the sportscar will be equipped with four-wheel drive, five-speed sequential gearbox, no central differential and long travel suspension. In addition it comes with widened tracks, a spoiler, and increased wheel arches of 18 inch. The weight of the car is 1200 kg for the gravel (loose-surface), the asphalt (tarmac) and for the WRC versions.
The engine here is the 2.0-litre naturally aspirated unit. Moreover, the 208 Type R5 adopts the EP6 CDT as standard. The engine develops exactly 280 hp (205 kW) at 6000 rpm and 400 Nm (294 lb-ft) at 2,500 rpm
The price for the 'R5s' begins at €180 000. A 208 Type R5 video and photos will be officially revealed on 27th September 2012.
208 Peugeot Type R5 Technical Specifications:
| | |
| --- | --- |
| ENGINE | |
| Type | EP6 CDT |
| Location Transverse | Front |
| Capacity | 1598 cc |
| Number of cylinders | 4 |
| Power (bhp.DIN) | 280 hp at 6,000rpm |
| Torque (Nm) | 400 Nm at 2,500rpm |
| Max engine speed | 7,500rpm |
| Injection | Magneti Marelli High Pressure Direct |
| Intake | Single throttle |
| Number of valves | 16 |
| | |
| --- | --- |
| TRANSMISSION | |
| Mode | Four-wheel drive |
| Clutch | Dual disc |
| Gearbox | Five-speed with sequential control |
| Differential | Two self-locking differentials |
| | |
| CHASSIS | |
| Structure and materials | Shell + Tubular roll-over bar |
| Front suspension | Pseudo MacPherson |
| Rear suspension | Pseudo MacPherson |
| | |
| --- | --- |
| BRAKES / STEERING | |
| Front brakes | Alcon 4 pistons |
| Diameter | 300 (gravel) 355 (asphalt) |
| Rear brakes | Alcon 4 pistons |
| Diameter | 300 (gravel) 355 (asphalt) |
| Steering | Direct with hydraulic assistance |
| Wheels | Aluminium monoblock 8"x18'' (asphalt) / 7"x15" (gravel) |
| Asphalt wheels | 225x40x18 |
| Loose surface/gravel wheels | 215x65x15 |
| | |
| --- | --- |
| DIMENSIONS | |
| Length | 3,962mm |
| Width | 1,820mm |
| Wheelbase | 2,560mm |
| Minimum weight | 1,200 kg (asphalt & gravel) |
Source: Peugeot